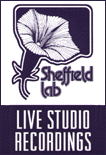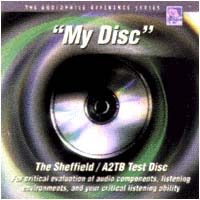 Sheffield Lab
LIVE STUDIO RECORDINGS


"My Disc"
The Sheffield / A2TB Test Disc
(For all types of audio equipment)
HI-DENSITY GOLD EDITION
10508-2-G


86 tracks, engineered to provide a thorough evaluation of your audio system's performance, the listening environment, as well as your personal critical listening ability. My Disc contains special tracks that enable you to analyze performance, with or without specialized test equipment. Now you can have your other test gear at home and evaluate any system any time you want to. For example, you can run tests at a friend's house, in an audio show room, or even in a car. There are also six complete music tracks from Sheffield Lab. A detailed 20 page booklet takes you through each procedure, track by track. My Disc will become your single indispensable disc for critical evaluation.

---
1 - 6 Reference Music
7 1k @ -20
9 - 18 Acoustic quick click
19 1-25 Count
23 Polarity pulses
26 Stage descriptions
33 - 40 Linearity tests
41 0 bit test
44 Stereo pink noise
47 - 56 1/3 octave noise
58 Subwoofer test
69 - 70 Dynamic test
77 - 82 Distortion masking
85 - 86 Indy Trials
---