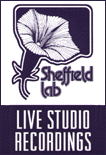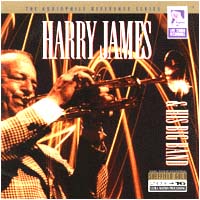 Sheffield Lab
LIVE STUDIO RECORDINGS


HARRY JAMES & H IS BIG BAND
10057-2-G


The best tunes recorded over a three year period.
This compilation, taken from the three multi-award winning direct-to-disc recordings, is a comprehensive Sheffield history of the Harry James Big Band and will make this release the standard for Big Band Sound. Originally recorded direct-to-disc in the Wylie Chapel in Hollywood, this CD is re-mastered with Sheffield's 20+>16 Ultra Matrix Processing from the original analog master tapes. Enjoy standards such as Count Basie's Corner Pocket, Caravan by Duke Ellington and Benny Goodman's Don't Be That Way. A must for all big band followers!

---
1. THE FOOTSTOMPER (5:11)
2. DON'T BE THAT WAY (2:47)
3. SWEET GEORGIA BROWN (2:58)
4. LARA'S THEME (3:35)
5. BLUES STAY AWAY FROM ME (3 55)
6. ON A CLEAR DAY (1:52)
7. CORNER POCKET (4:09)
8. CARAVAN (3:36)
9. SATIN DOLL (3:45)
10. TAKE THE "A" TRAIN (3:03)
11. UNDECIDED (4:22)
12. CIAO (3:42)
13. TWO O'CLOCK JUMP (2:18)
14. TUXEDO JUNCTION (3:03)
15. OPUS NUMBER ONE (2:14)
16. CHEROKEE (2:18)
---
"One of the best recordings I have ever heard."
- The Absolute Sound