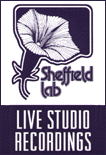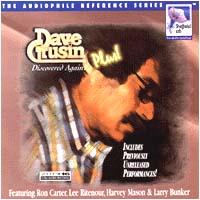 Sheffield Lab
LIVE STUDIO RECORDINGS


Dave Grusin
Discovered Again plus
10075-2-F




Dave Grusin, Piano & Electric Piano
Ron Carter, Bass Lee Ritenour, Guitar
Harvey Mason, Drums Larry Bunker, Percussion


When the "Direct to Disc" LP of Discovered Again was originally released, it rapidly became a test and demonstration recording used by every professional audio engineer and salesman. It also became a "must have" for audio enthusiasts around the world. As with all of the Sheffield Lab compact disc releases of performances from 1971 through 1985 the original CD was made using tapes which ran simultaneously with the Direct to Disc recording sessions. On these unedited performances of an entire LP side, we selected the best total side performances for each release. With this CD, remastered in Sheffield Lab's own 20+>16 Ultra Matrix Processing from the original analog master tapes, we have included extraordinary performances that have never before been released. What you hear on this CD is not a new mix, but a completely different performance from the musicians' standpoint and the engineering perspective.

---
1. A CHILD IS BORN (3:46)
2. KEEP YOUR EVE ON THE SPARROW (4:19)
3. SUN SONG (4:41)
4. CAPTAIN BACARDI (2:35)



THREE COWBOY SONGS:
5. GIT ALONG LITTLE DOGIES (4:51)
6. THE COLARADO TRAIL (4:58)
7. CRIPPLE CREEK BREAKDOWN (4:43)



8. ADEIUS A PAPAI (2:16)



plus - alternate mixes
9. KEEP YOUR EYES ON THE SPARROW (4:19)
10. SUN SONG (4:40)
11. GIT ALONG LITTLE DOGIES (4:29)
12. THE COLORADO TRAIL (5:14)
---