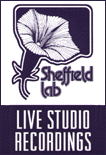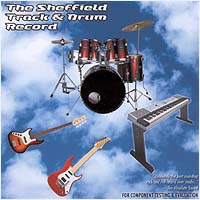 Sheffield Lab
LIVE STUDIO RECORDINGS


The Sheffield Track & Drum Record
10081-2-F


The Sheffield Drum and Track Disc combines two "direct to disc" recordings made by Sheffield Lab in 1980 and 1982. These recordings quickly became the reference standard for component testing and evaluation, and achieved legendary status with recording engineers, hi-fi equipment manufacturers, audio sales personnel, and audiophiles worldwide.



Sheffield combined the recordings onto a single compact disc in 1987, and now present these still unparalleled sonic spectaculars as part of their Test & Evaluation range of recordings. The Sheffield Drum and Track Disc features the engineering skills of Doug Sax, Bill Schnee, and Steve Haselton, Sheffield's version of the audiophile "Dream Team."



The two Drum Improvisations feature legends jim Keltner (Travelling Wilburys, John Lennon, George Harrison, Bob Dylan, Bette Midler …) and Ron Tutt (10 year recording and tour veteran with Elvis Presley). The Rock Instrumental tracks feature The Sheffield Track Team: an astonishing lineup of instrumental talent including Robbie Buchanan and James Newton Howard on keyboards, Nathan East on Bass, Mike Landau on Guitar, Carlos Vega on Drums and Lenny Castro on Percussion.



This disc is designed to quickly reveal sonic differences, and audio professionals and consumers alike will greatly assist them in making comparisons of audio components, modifications, room placements, etc. These test records were recorded without compromise, to deliiver the absolute maaximum amount of signal to a high fidelity system.



Now Re-mastered using Sheffield Lab's MADO system
(Mastered from Analog Disc Originals)
---
The Basic Tracks
1. AMUSEUM 4:15
J.N. Howard - W. Smith Howard
2. THE HIGHER YOU RISE 4:05
J. Gruska P. Gordon
3. WISE TO THE LINES 4:00
R. Buchanan C. Dore
4. LE BALLADE 3:35
R. Buchanan



The Basic Drummers
Free Improvisations
5. RON TUTT 6:27
6. JIM KELTNER 7:09
---