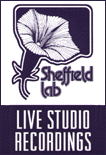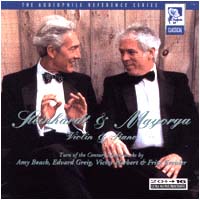 Sheffield Lab
LIVE STUDIO RECORDINGS


Steinhardt & Mayorga
Violin & Piano
10063-2-F


The turn of the century masterworks featured on this CD focuses on several composers who, in the 50 years spanning parts of the nineteenth and twentieth centuries composed a large body of music to evoke the elements of emotion and beauty on a very personal, intimate level. These tender, supremely recorded masterworks offer the listener an opportunity to experience the music of the nineteenth century salon, where a composer was considered successful when his music brought a trace of a smile to the lips or a tear to the eye. This is the second of a two CD series set featuring Arnold Steinhardt and Lincoln Mayorga.

---
EDVARD GRIEG (1843-1907)
Sonata No. 3 in C Minor. Opus 45
1) Allegro molto ed appassionato (8:52)
2) Allegretto espressivo alla Romanza (6:30)
3) Allegro an animato (6:51)



FRITZ KREISLER (1875-1962)
From the operetta Apple Blossoms
4) Who Can Tell? (2:34)
5) Miniature Viennese March (3:08)
6) Syncopation (1:49)
7) Cavatina (4:23)
8) Hungarian Dance (3:39)



AMY BEACH (1867-1944)
9) La Captive (3:30)
10) Berceuse (2:35)
11) Mazurka (2:52)



VICTOR HERBERT (1859-1924)
12) A La Valse (1:44)
---