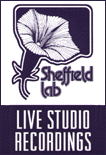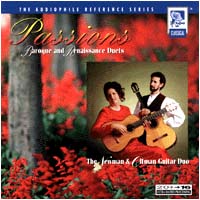 Sheffield Lab
LIVE STUDIO RECORDINGS


Passions
The Newman & Oltman Guitar Duo
10058-2-F


The Newman & Oltman Guitar Duo, heralded by the New York Times as "Fresh, Hot and Headed for Fame!" is an exciting group of Rennaisance and Baroque duets produced, engineered and mastered by Doug Sax. Stereophile called Michael Newman's debut album for Sheffield, Guitar Pleasures, "A reference standard!" Passions is sure to join it as a benchmark for sonic excellence - an essential addition to your classical guitar library.

---
ALESSANDRO PICCINNI:
1 TOCCATA 3:32
FRANCESCO CANOVA DA MILANO:
2 FANTASIA SEXTA 1:49
3 FANTASIA QUART A 1:12
GIOVANNI GABRIELI:
4 LIETO GODEA SEDENDO 2 46
FRANCESCO CANOVA DA MILANO:
5 RICERCAR PRIMA 1:10
6 RICERCAR SECONDA 1.45
DENIS GAULTIER:
7 "NARCISSE" COURANTE,
(FROM LA RHETORIQUE DES DIEUX) 1:38
ENNEMOND GAULTIER:
8. "LES LARMES DE BOISSET"
COURANTE 2:33
9. CANARIES
DU BUT, LE JEUNE:
10. COURANTE 1:39
ROBERT DE VISEE:
11 GAVOTTE RONDEAU 1:32
WILLIAM LAWES:
12 ALMAN 1 56
13 CORANT 1:10
14 CORANT 1:15
CORIGNIANI: CONCETO
15 INTRODUZZIONE ALLEGRO 3:57
16 ALLEGRETTO 2:45
17 ADAGIO 4:18
18 ALLA-BREVE 1:37
JOHN DOWLAND:
11 LORD WILLOUGHBY'S
WELCOME HOME 1:15
20 MY LORD CHAMBERLAIN,
HIS GALLIARD
(AN INVENTION FOR TWO
TO PLAY UPON ONE LUTE) 1:42
JOHN JOHNSON:
21 THE FLATT PAVIN 2:04
22 GALLIARD TO THE FLATT PAVIN 1:19
JOHN DANIEL:
23 A FANCY 1:13
THOMAS ROBINSON:
24 A PLAIN SONG 1:08
25 A FANTASY 2:15
ANONYMOUS:
26 LA ROSSIGNOL 1:08
27 DREWRIES ACCORDES 1:27
WOLFF JACOB LAUFFENSTEINER: SONATA
28 GRAVE 4:56
29 ALLEGRO 2:39
30 ANDANTE 2:02

---