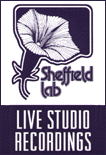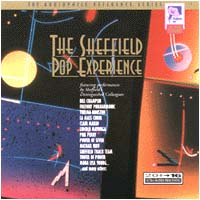 Sheffield Lab
LIVE STUDIO RECORDINGS


THE SHEFFIELD POP EXPERIENCE
Sheffield's Distinguished Colleagues
10053-2-F


Discover how pop music is supposed to sound when you listen to THE SHEFFIELD POP EXPERIENCE.
A collection of some of Sheffield's most infectious pop tunes, performed by an all-star cast featuring Phil Perry, Clair Marlo, Thelma Houston, Tower of Power, Michael Ruff, Freeway Philharmonic, Bill Champlin and others!
All of these tunes were recorded live in the studio with no overdubs. This dynamic, energetic pop recording will make even the simplest hi-fi system come to life!
Not just a sampler … a Sheffield Sonic Experience!

---
1. Tower of Power - WHAT IS HIP (4:45)
2. Lincoln Mayorga - DOCK Of THE BAY (2:29)
3. The Power of Seven - MOCKINGBIRD (5:03)
4. Michael Ruff - ANY LESS THAN THIS (4:48)
5. Clair Marlo - 'TILL THEY TAKE MY HEART AWAY (4:14)
6. LA Mass Choir - LIFE IS WHAT YOU MAKE IT (5:53)
7. Bill Champlin - GOOD FRIENDS (5:05)
8. Sheffield Track Team - WISE TO THE LINES (4:00)
9. Phil Perry - SHOW YOUR CHILDREN LOVE (3:57)
10. Freeway Philharmonic - GOOD VIBRATIONS (4:23)
11. Thelma Houston - I'VE GOT THE MUSIC IN ME (2:39)
12. Mona Lisa Young - DANCING IN THE STREET (4:18)
13. Bill Champlin - TIME WILL BRING YOU LOVE (4:29)
---