MILES DAVIS QUINTET

MILES SMILES
UDSACD 2201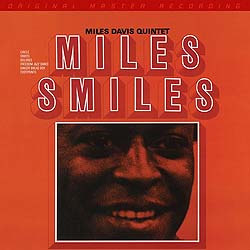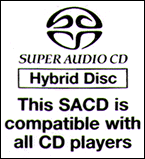 A Numbered, Limited-Edition, Hybrid SACD, Sourced from Original Master Tapes.



The first in a landmark series of modal albums that forever changed jazz: this 1966 release Miles Smiles features the most brilliant playing of Miles Davis' second "Great Quintet." It bursts with vitality and spirit.



Mastered from the Original Master Tapes and Strictly Limited to 3,000 Numbered Copies: Mobile Fidelity Hybrid SACD Is the Definitive-Sounding Digital Edition, Teems with Clarity and Detail.



The clarity afforded by history proves Miles Davis' second great quintet vying for the unofficial honor of being the finest small jazz combo to ever record to tape. Originally released in 1966, Miles Smiles is largely responsible for the feat, as it commences a series of five groundbreaking albums - chronologically rounded out by Sorcerer, Nefertiti, Miles in the Sky, and Filles de Kilimanjaro - guided not by chordal patterns but open responses to melodies. Music would never again be the same. Neither will experiencing Miles Smiles once you hear this definitive-sounding hybrid SACD reissue.



Mastered from the original master tapes and strictly limited to 3,000 numbered copies, Mobile Fidelity's numbered hybrid SACD takes the landmark effort into rarified sonic territory. Davis and company play against coal-black backgrounds that serve to illuminate every detail, texture, and nuance. Superb separation and plentiful air allow instruments to fully blossom, effectively taking you into Columbia's 30th Street Studio to watch the legendary combo transpire before your eyes.



Like the other iconic Davis titles in Mobile Fidelity's reissue series, this analog version also puts a premium on tonality and preservation of individual notes, which arc and decay with uncanny realism. The brilliance of Ted Macero's original production springs forth from every passage. Never before has this standard-setting record burst with as much palpable verve, energy, spirit. Davis and Wayne Shorter's horns crackle with electricity. Ron Carter's bass attains unprecedented fluidity and dimensionality. Tony Williams' drums burst, splash, and swing with terrific fervor. Herbie Hancock's 88s dance with a communal dynamic.



Even with all the headway the ensemble made on its subsequent albums together, many jazz cognoscenti and Davis diehards strongly feel Miles Smiles remains the apex of their vast accomplishments. The piles of evidence lay within the thrills, adventurousness, and curiosities staked to every composition. At once accessible and unpredictable, songs reflect an ever-changing mentality, an edgy moodiness, and a triumphant will - with each corner the band rounds a new opportunity to integrate and interact, anticipate and respond, investigate open spaces and establish if not fully lock into contagious, broad, striding grooves.



For Davis - and the music world at large - the significance of Miles Smiles cannot be overstated. "The synthesis of complete abstraction with more or less straightforward blues-playing was to sustain [Davis] right through the darkness of the 1970s bands to the later period," write experts Richard Cook and Brian Morton. To their point, everyone from DownBeat to Q to TIME have deemed "Footprints" as one of the greatest compositions of the latter 20th century.



Everywhere you turn, genius abounds. Right out of the starting gates, "Orbits" swirls with hard-driving rhythms and Davis' untethered soloing. "Delores" likewise steams and cooks, retaining a tuneful allure all the while speaking with a streetwise swagger. Anchored in part by Hancock's radiant piano lines, the ballad "Circle" moves gently and expresses a romantic elegance via its superb lyrical poise. On Miles Smiles, the band simply has and does it all. This is a record you want to feel as much as hear.



"Indeed, Miles Smiles is the apex of post-bop intuitive interplay, and Mobile Fidelity's SACD brings out the best sonic detail of Ted Macero's top-shelf production for this modal-exploratory master class."
-The Absolute Sound



"This garnered 'digital release of the month' in June for the SACD, and this double 45RPM LP is even better." -Ken Kessler, Hi-Fi News, 95% Sound Quality rating



1. Orbits
2. Circle
3. Footprint
4. Dolores
5. Freedom Jazz Dance
6. Ginger Bread Boy




---




---

Mobile Fidelity Sound Lab
recordings are distributed in Australia by
Rockian Trading