BOB DYLAN

PAT GARRETT & BILLY THE KID 'SOUNDTRACK'
UDSACD 2202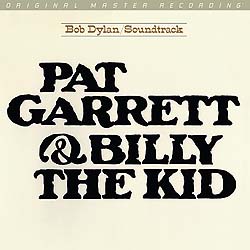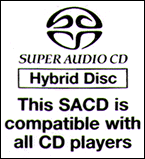 A Numbered, Limited-Edition, Hybrid SACD, Sourced from Original Master Tapes.



This 1972 release, Bob Dylan's iconic soundtrack for Sam Peckinpah's Pat Garrett & Billy the Kid western film, teems with personalities, moods, and feelings. It includes the original version of "Knockin' on Heaven's Door."



On the surface, Bob Dylan's Pat Garrett & Billy the Kid serves as a potent soundtrack to Sam Peckinpah's western of the same name. Dating from 1973, the Grammy-nominated set continued a rustic current Dylan explored on prior efforts such as Nashville Skyline and John Wesley Harding. It also demonstrated the singer could successfully lend his talents to a film and produce music that not only illuminated the mood, personalities, and actions on screen but exist and thrive independent of them. Yet Pat Garrett & Billy the Kid is much more, and most importantly, finally receives its just sonic due more than four decades after its initial release.



Mastered from the original master tapes on Mobile Fidelity's world-renowned mastering system, and strictly limited to 2,500 numbered copies, this hybrid SACD features reference-level instrumental separation and full-bodied tones that allow the songs to blossom amidst soundstages whose dimensions are limited only by the breadth of your stereo system. The flinty, raw acoustic edge of Dylan and Bruce Langhorne's guitars come into immediate relief. Booker T. Jones' relaxed albeit taut bass, Jolly Roger's down-home banjo, Russ Kunkel's textured bongos, and the crucial string accompaniments similarly flourish.



Indeed, Pat Garrett & Billy the Kid remains both distinctive and intriguing for the cast Dylan assembled for its creation – and their collective performances. Echoing Ry Cooder's adventurous, epoch-defying journeys that would soon follow, the 10-track album effortlessly breathes with country, folk, blues, and old-time pop flavors. A-list collaborators, including drummer Jim Keltner, fiddler Byron Berline, and Byrd legend Roger McGuinn, assist Dylan in making instrumental portraits such as the pensive "Catalina Theme (Working for the Law)" and the spry "Turkey Chase" teem with detail, character, and a definite sense of place. Heard anew on Mobile Fidelity's exquisite remaster on SACD, they take on deeper meaning and convey elevated levels of enjoyment.



1. Main Title Theme (Billy)
2. Cantina Theme (Workin' for the Law)
3. Billy 1
4. Bunkhouse Theme
5. River Theme
6. Turkey Chase
7. Knockin' on Heaven's Door
8. Final Theme
9. Billy 4
10. Billy 7



---




---

Mobile Fidelity Sound Lab
recordings are distributed in Australia by
Rockian Trading