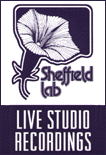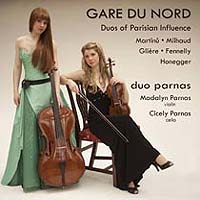 Sheffield Lab
LIVE STUDIO RECORDINGS


Gare du Nord
Duos of Parisian Influence
Duo Parnas
Madalyn Parnas, violin - Cicely Parnas, cello
10088-2-F


duo parnas' second recording is a collection of fascinating and rarely-heard violin/cello duos written by 20th century composers each with a "Parisian Influence." Martinu, a Bohemian Czech composer, wrote his first duo in Paris. Though Swiss, Honegger lived most of his life there, attending the Paris Conservatory with his thoroughly French colleague Milhaud. The Ukrainian Glière changed his name from "Glier" to the French-sounding "Glière." And, Fennelly's 'Sigol' for Two is dedicated to grandaughter Sigol who lives in Paris. The busy Parisian train station seems a fitting metaphor; these pieces converge on Paris in various ways from many places as do rail travelers on "Gare du Nord." The resulting collection is sumptuous. Enjoy!


---
BOHUSLAV MARTINU:
Duo No. 2 for Violin and Cello
1. Allegretto (2:54)
2. Adagio (4:08)
3. Poco allegro (3:35)



REINHOLD GLIERE:
Eight Duets, Op. 39
4. Prelude (2:11)
5. Gavotte (2:08)
6. Cradle Song (2:25)
7. Canzonetta (1:50)
8. Intermezzo (1:45)
9. Impromptu (1:52)
10. Scherzo (3:17)
11. Etude (1:23)



ARTHUR HONEGGER:
Sonatina for Violin and Cello
12. Allegro (4:49)
13. Andante (5:01)
14. Allegro (4:30)



BRIAN FENNNELLY
15. 'Sigol' for Two (8:58)



DARIUS MILHAUD:
Sonatina for Violin and Cello
16. Animé (2:27)
17. Modéré (3:04)
18. Vif (2:27)



BOHUSLAV MARTINU:
Duo for Violin and Cello
19. Preludium: Andante moderato (4:27)
20. Rondo: Allegro con brio (8:43)


---