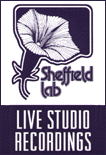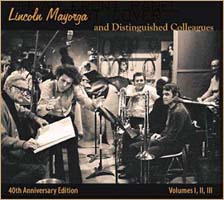 Sheffield Lab
LIVE STUDIO RECORDINGS


Lincoln Mayorga and Distinguished Colleagues
The Complete Trilogy [2 CD Set]
10086-2-F


The recordings, which raised the audiophile recording industry to high profile status, are presented in this 2-CD set, containing the three Lincoln Mayorga and Distinguished Colleagues albums from 1968, 1972, and 1973. All three have been Mastered from Analogue Disc Originals by Seth Winner. Volume I (formerly Sheffield S9) appears for the first time on Compact Disc. Deluxe colorful packaging includes technical and session photos, as well as historical notes.



As we celebrate forty years of uncompromising music and recorded sound, Sheffield Lab is proud to present this original trilogy of albums, the records that launched a label and raised the bar high.



THE DISTINGUISHED COLLEAGUES:
The roster of great musicians, from the finest era of studio recording in Hollywood, includes the creators of the hit sounds of the era: tenor saxophonist Plas Johnson (musical voice of "The Pink Panther"), alto saxophonist Ronnie Lang, lead guitarist Mike Deasy, drummers Jim Gordon and Jim Keltner, percussionists Victor Feldman and Gary Coleman, bassists Larry Knechtel, Jerry Scheff, and Chuck Berghofer, harmonica player Tommy Morgan, The Miraflores String Quartet, the brass players of the major movie studios. The complete list of musicians can be found in the booklet.


Produced by Doug Sax and Lincoln Mayorga
Engineered by Bill Schnee, Larry Brown and Ed Cobb
Musical arrangements by Lincoln Mayorga
MADO - Mastered from Analogue Disc Originals by Seth Winner
---
THE MUSIC:
Volume III: The Perfect Song, My Love, America (from "West Side Story"), That Certain Feeling, Oh Lord I'm On My Way (from "Porgy and Bess"), Camarillo, You Are The Sunshine of My Life, LeGrand Medley (including "The Summer of '42"), From Menaggio to Bellagio, King Porter Stomp
Volume II: ("The Missing Linc"): Chopin: Preludes in C and E, Limehouse Blues, I Never Loved A Woman The Way I Loved You, Both Sides Now, Brasil '57, The April Fools, Norwegian Wood, We've Only Just Begun, Peace Train, If, Blackbird, Love Rach
Volume I: Grand Boulevard, Good Vibrations, Anyone Who Had A Heart, I'll Be Back, Learning To Be Kind, Up Up and Away, Mercy Mercy, She's Leaving Home, Don't Think Twice, All The Things You Are

---