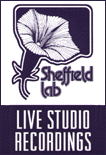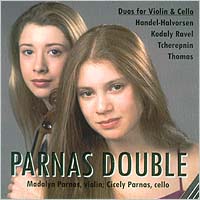 Sheffield Lab
LIVE STUDIO RECORDINGS


Duos for Violin & Cello
The Parnas Double
10082-2-F


This brand new release will introduce two extraordinary young musicians, violinist MADALYN PARNAS, 16, and 'cellist CICELY PARNAS, 14, in brilliant performances of fascinating repertoire for violin and 'cello---colorful and dramatic duos which span the period from the late nineteenth to the beginning of the twenty-first century.



This debut recording for the Parnas Duo features well-known and well-loved staples of 20th Century composers and a few delightful discoveries. The duo repertoire is lean in general, thus, this recording includes the Kodaly and Ravel Duos, which clearly represent the staples of the 20th Century literature. But you may consider adding the Tcherepnin Duo written in 1932 to this short list after hearing this enchanting and often beautifully lyrical piece with its driving folk dance rhythms and energy. The romantic Handel-Halvorsen Passacaglia and a truly charismatic string duet by Jonah Thomas, composed before and after the 20th century respectively, complete the listening adventure.



These two young artists, Madalyn and Cicely Parnas, are part of an important family of musicians. Their grandfather, Leslie Parnas, is one of the world's great 'cellists, a founding member of Chamber Music At Lincoln Center. The sisters, who are rapidly gaining a national reputation, are dedicated classical musicians who work with great intensity. Already they maintain a busy concert schedule performing a large repertoire of solo works, chamber music, and concertos. At the same time, they are fun loving, joyful, unspoiled kids, who ride horses, shoot hoops in the back yard, and listen to country music.



Sheffield Lab is very proud to present the first recording of a remarkable duo, a recording which will soon take on historic importance as the careers of these two fine artists develop.


---
ZOLTAN KODALY
Duo for Violin and Cello, Op. 7
1. Allegro serioso, non troppo (8:02)
2. Adagio (8:20)
3. Maestoso largamente, ma non troppo lento (8:34)



ALEXANDER TCHEREPNIN
Duo for Violin and Cello, Op. 49
4. Allegro (2:34)
5. Maestoso (2:41)
6. Moderato (1:33)
7. Allegro (1:23)
8. Allegro Moderato (2:37)



JONAH THOMAS
9. Duet for Violin and Cello #1 (2:47)



HANDEL-HALVORSEN
10. Passacaglia (6:53)



MAURICE RAVEL
Sonata for Violin and Cello
11. Allegro (4:53)
12. Très vif (3:38)
13. Lent (5:20)
14. Vit avec entrain (6:20)



[Total Time: 65:45]
---