TWISTED SISTER
STAY HUNGRY
MFSL 1-492
180 gram Audiophile LP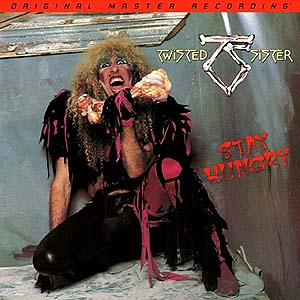 A Numbered, Limited-Edition, 180-gram LP, Sourced from Original Master Tapes.



The Iconic 1984 Album that fought the 'Parents Music Resourcs Center' censorship rocks without compromise: Twisted Sister Stay Hungry balances fun and rebellion, and includes "We're Not Gonna Take It"



You wanna rock. And rock is what Twisted Sister does without compromise on Stay Hungry, an album that soon after its release became a leading symbol in the much-controversial fight against the Parents Music Resource Center (PMRC). Filled with good, clean fun, hard-rock ferocity, and laser-focused purpose, the triple-platinum effort receives deluxe treatment befitting one of the most iconic records of the 1980s courtesy of Mobile Fidelity.



Removed of prior veils and translucent artifacts, the record now breathes with an airiness, clarity, and openness that places the performances on a defined stage augmented with arena-sized amplification. Bass and drums take on far greater weight, impact, and size. Tones are crisp and possesses attack and bite. The compression that once suppressed the boisterousness, boldness, and bigness of Dee Snider's singing has disappeared. Far from a set simply intended for clinical listening, this definitive-sounding edition does everything but slip a patch-adorned denim jacket over your shoulders and encourage you to skip out on work (or math class).



The culmination of more than a decade spent paying dues in small clubs in New York and New Jersey, Stay Hungry survives as a testament to old-school band chemistry and never-say-die ambition. As Twisted Sister's third album, it showcases a refined style that balances rebellious rawness with mainstream-friendly touches in the form of catchy melodies, shout-it-out-loud choruses, and simple albeit effective themes. Unlike many of the hair-metal records with which it remains mistakenly associated, Stay Hungry never pretends or postures. There's not a fake moment in sight.



Indeed, nearly every note on the 1984 breakthrough - be it the Stephen King-inspired "Horrorteria" suite, the pure metal drive of the title track, or the intimidating, clenched-teeth thrust of "Burn in Hell" - owes to a seasoned work ethic and nonconformist instinct that confirm Twisted Sister walked the talk like few other bands of its era. Even the sole power ballad, "The Price," marches forward with a dedicated resolve that shows why Gore and company were frightened: This is an album that couldn't, and still cannot, be stopped.



Experience the historic record in the highest fidelity it has ever enjoyed and pour over the iconic album cover in all its glory via Mobile Fidelity's 180g LP.


Side A.
1. Stay Hungry
2. We're Not Gonna Take It
3. Burn in Hell
4. Horror-Teria (The Beginning)
A) Captain Howdy
B) Street Justice

Sibe B.
5. I Wanna Rock
6. The Price
7. Don't Let Me Down
8. The Beast
9. S.M.F.
---




---

Mobile Fidelity Sound Lab
recordings are distributed in Australia by
Rockian Trading