SIMON AND GARFUNKEL
PARSLEY, SAGE, ROSEMARY AND THYME
MFSL 1-484
180 gram Audiophile LP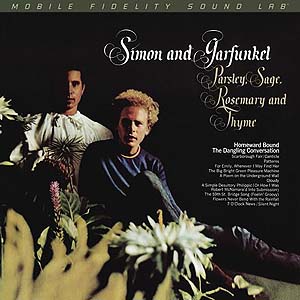 A Numbered, Limited-Edition, 180-gram LP, Sourced from Original Master Tapes.



This 1966 release is full of songs for all time: Simon and Garfunkel's kaleidoscopic Parsley, Sage, Rosemary and Thyme includes "'Scarborough Fair/Canticle," "Homeward Bound," and "The 59th Street Bridge Song"



The liner notes pioneering writer Ralph J. Gleason penned for the back cover of Simon and Garfunkel's Parsley, Sage, Rosemary and Thyme ring as true now as they did upon the record's original release in 1966. He mused: "Today's popular music is in good shape indeed - at least the portion of it represented by this album. It has strength and it has beauty, it has lyricism, meaning and, above all, that quality of broad appeal which still retains form. And its music speaks for more than the moment. The songs in this album are songs for all time." Indeed, they are, and they can now be experienced in the highest fidelity they've ever enjoyed.



The first Simon and Garfunkel set captured on an eight-track recorder, Parsley, Sage, Rosemary and Thyme here bursts with colors crucial to the scope of the songs. Separation between vocals and guitars, images of individual players, and the dimensions of the wide-spanning soundstages all flourish. Harmonies crest and seemingly float on bypassing clouds. Acoustic passages blossom with lifelike structure and tone. The intent of deliberate euphonic variations - like those between the pair's singing and Charlie O'Donnell's spoken news report on the closing "7 O'Clock News/Silent Night," which function as both poetic and social commentary - is made clearer by way of the SACD's reference-caliber transparency.



Such punctiliousness is exactly what the duo pursued during their four months in the studio, considered then by record-company executives to be borderline excessive. Yet there's no arguing with the end results of a benchmark work Rolling Stone named the 202nd Greatest Album of All Time. Again, it proves wise to refer again to Gleason, whose observations about Parsley, Sage, Rosemary and Thyme's character remain spot-on.



Side A.
1. Scarborough Fair/Canticle
2. Patterns
3. Cloudy
4. Homeward Bound
5. The Big Bright Green Pleasure Machine
6. The 59th Street Bridge Song (Feelin' Groovy)
Side B.
1. The Dangling Conversation
2. Flowers Never Bend in the Rainfall
3. A Simple Desultory Philippic
4. For Emily, Whenever I May Find Her
5. A Poem on the Underground Wall
6. 7 O'clock News/Silent Night




---




---

Mobile Fidelity Sound Lab
recordings are distributed in Australia by
Rockian Trading