CURTIS MAYFIELD
SUPER FLY
MFSL 2-481
180 gram 45rpm Double Audiophile LP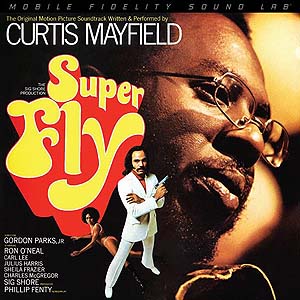 This 1971 recording is a master stroke of boundary-crossing music with brilliant production, smart storytelling and vital social commentary: Curtis Mayfield's lushly orchestrated superfly is a cultural signpost.



Mastered on Mobile Fidelity's world-renowned mastering system, pressed at RTI, and strictly limited to 4,000 numbered copies: this 180g 45rpm double LP set features widescreen details, tones, and grooves



Curtis Mayfield's border-transcending Superfly is much more than a soundtrack to a cutting-edge blaxploitation film. Recorded in 1972 to coincide with Gordon Parks, Jr's movie about a dealer attempting to divorce himself from the urban underworld, Mayfield's brilliantly orchestrated set ignited an entire genre, expanded the scope of R&B, and spurred dialogues surrounding significant social issues ranging from the unvarnished consequences of hustling to the realities of African-American lives in America. Rightly deemed by Rolling Stone "Marvin Gaye's What's Going On at a street level" and named the 69th Greatest Album of All Time by the magazine, Superfly endures as an astonishing master stroke of boundary-crossing soul, lyrical smarts, and vital commentary. Mobile Fidelity's reissue brings it - and its of-the-moment contents - to life like never before.



Mastered on Mobile Fidelity's world-renowned mastering system, cut at 45RPM for the first time, pressed at RTI, and strictly limited to 4,000 numbered copies, this 180g 45RPM 2LP set of Superfly presents Mayfield's vision with widescreen sonics worthy of its cinematic reach. The extra groove space afforded by the 45RPM edition changes everything and explodes the wealth of aural information. Separation between the seemingly countless instruments, the myriad timbres of Mayfield's voice, the ambitious breadth and crucial shifts of the strings, the probing reach of the lean albeit direction-leading bass; you've never heard Superfly sound so vibrant, realistic, or immediate. Surpassing the status of an album, the 1972 effort comes across here as an audiophile-vetted cultural signpost - an epic on the order of Duke Ellington's Black, Brown & Beige, Miles Davis' A Tribute to Jack Johnson, and Gaye's aforementioned manifesto.



As Mobile Fidelity's restored version proves, few records mesh lush delicacy with such pressing urgency to the extent heard on Superfly. Mayfield's arrangements now breathe and exhale with palpable air, revealing an astounding degree of openness and dynamics that places the musicians on a grand soundstage. On par with the finest big-studio productions of the 60s and 70s, Mobile Fidelity's Superfly bursts with colors and details - with the mind-boggling array of individual threads forming a seamless tapestry involving guitars, woodwinds, horns, singing, and melodies. The presentation of the wah-wah effects, accenting rhythms of the brass rejoinders, and mood-setting aura of the strings are alone enough to make Phil Spector or Brian Wilson blush. No prior R&B work simultaneously crossed as many lines, painted such vivid portraits, and maintained such streetwise cool.



No wonder Superfly kickstarted the genre of blaxploitation music. Yes, Isaac Hayes' Shaft arrived nearly a year earlier. Apart to their fundamental relationship to the style, however, the records are worlds apart. Mayfield's creation stands as a fully realized track-by-track immersion into urban neighborhoods, mindsets, and lives that doubles as both boots-on-the-ground reportage and an emotionally loaded wake-up call. Primarily singing in a light falsetto that underscores the conflicting feelings of sympathy, anger, sadness, sensuality, toughness, desperation, and fear harbored by the protagonists, the Chicago native dispenses hard truths and critical perspectives without ever preaching or taking sides. The results pulse with the same vitality as they did four decades ago, wth Mayfield's narratives echoing with biographical and descriptive details rather than choosing a celebratory or exploitative route.



As skillful as Mayfield's words remain, the music blows them away. Superfly works on multiple levels - a record whose deep grooves and avalanche of funk-derived riffs express basically everything that needs to be said. Each song inhabits its own geographical and personal landscape, their lasting appeal a testament to the album becoming one of the few soundtracks to out-gross its accompanying film. Shortly after release, Superfly spent four weeks as at the top of the Billboard Pop charts and yielded a pair of two-million-selling singles, "Freddie's Dead" and the title track, both pregnant with the powerful imagery and tell-it-straight approach that define every moment of the record. Mayfield's direct connection to the material remains evident.



"I could relate with a lot of [the script for Superfly], because I lived enough throughout the city to sense … what a 'Superfly' was," he once explained to writer Bob Pruter. "[The script] allowed me to get past the glitter of the drug scene and go beyond it." And go beyond he does - in every practical facet - from the entrapment and danger conveyed by *"Little Child Runnin' Wild" to the bleak albeit mesmerizing, greasy funk of the blunt "'Pusherman" to the escapist sensuality of the smooth "Give Me Your Love (Love Song)." Superfly is an American institution - and a work everyone should experience in full-range sound. Mobile Fidelity's ultra-clean pressing makes it all possible.



SIDE A.
1. Little Child Runnin' Wild
2. Pusherman



SIDE B.
1. Freddie's Dead
2. Junkie Chase



SIDE C.
1. Give Me Your Love (Love Song)
2. Eddie You Should Know Better
3. No Thing on Me (Cocaine Song)



SIDE D.
1. Think
2. Superfly


---




---

Mobile Fidelity Sound Lab
recordings are distributed in Australia by
Rockian Trading