THE THELONIOUS MONK QUARTET

MONK'S DREAM
UDSACD 2207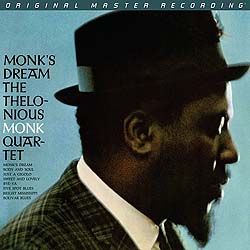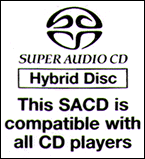 A Numbered, Limited-Edition, Hybrid SACD, Sourced from Original Master Tapes.



Thelonious Monk's 1963 Columbia Records Debut bursts with blues, stride, gospel, and swing: Monk's Dream conveys a joyous, boundless, exhilarating freedom that encourages repeat listening.



The historical import, musical genius, and timeless artistry of Monk's Dream can be best appreciated by first placing the record in the context of its era. In short, Thelonious Monk's joyful Columbia Records debut triggered a domino effect of mainstream attention, best-selling success, and across-the-board respect that led him to become one of only six jazz musicians to ever grace the cover of Time - then America's most widely read weekly magazine. Couple the extraordinary feat with the fact the British Invasion and Beatlemania were already in full swing, and the cultural significance – not to mention its place in the jazz canon – of Monk's Dream skyrockets to near-unthinkable heights.



Mastered from the original master tapes and strictly limited to 3,000 numbered copies, Mobile Fidelity's numbered-edition hybrid SACD pays tribute to the 1963 album's merit and enhances the music for generations to come. Surpassing the sonics even afforded by ORG's long-out-of-print disc and greatly improving on every other version extant, this audiophile-grade collector's edition strips away any lingering audio limitations to provide a clear, transparent, and up-close view of a set that inspired DownBeat to award the record a five-star review in which critic Pete Welding correctly proclaimed it "a stunning reaffirmation of [Monk's] powers as a performer and composer."



Such potency reveals itself as all the more obvious on an SACD afforded stellar reproduction of the multi-layered complexities, challenging tonalities, and nontraditional rhythms that conspire to place Monk's finest outings in a league of their own. Accurately portraying the complete scale of a piano remains one of the most difficult tasks to accomplish on a recording. And yet the sound of Monk's instrument here captures its wide-bandwidth frequency response and inner cavity, allowing notes to individually register all the while pairing with succeeding and decaying chords in seamless fashion. The presence, tones, and contributions of the colleagues surrounding Monk – tenor saxophonist Charlie Rouse, bassist John Ore, and drummer Frankie Dunlop – come across, too, with a lifelike realism rivaled only by sitting in an intimate club.



Benefitting from the newfound immediacy, clarity, and ink-black backgrounds on Mobile Fidelity's reissue are five originals and three covers that demonstrate the boundless vistas of Monk's vision, aptitude, and inventiveness. As acclaimed scribe Gary Giddins wrote while reminding us the North Carolina native's motto was "jazz is freedom," Monk's Dream exposes his "dauntless concentration, impressive faith, and an almost childlike glee." These traits spark works such as the spry interpretation of "Body and Soul," which Monk handles sans accompaniment, and guide the quirky angles that snake around and shape "Bolivar Blues," the title of which refers to a Manhattan hotel.



Throughout, Monk's Dream conveys an exhilarating freedom that mirrors the improvisational twists, dissonant techniques, and melodic turns Monk embraced not only in the studio (and on the stage) but in everyday life. Considered by some to be too idiosyncratic for his own good, his flawless craftsmanship, underlying irreverence, and deep-seated knowledge of swing, stride, blues, and gospel raise this 1963 album to mythical levels - and let the inner contours, deliberate phrasings, and urgent solos on tracks like "Bye-Ya" and the title cut exhibit new details, themes, and directions with each listen.



Indeed, above everything, Monk's Dream encourages constant exploration and repeat plays. Forever bursting with fresh ideas, it refuses to stand still, instead buzzing with the energy of a city celebrating its internal commotion and dancing to the influences that made its current modernism possible. Monk was just decades ahead of everyone else in figuring out how this seemingly incongruent yet delightfully cool tango sounded. Fortunately for the rest of us, he documented it and called it Monk's Dream.



Musicians:
Thelonious Monk, piano
Charlie Rouse, tenor sax
John Ore, bass
Frankie Dunlop, drums




1. Monk's Dream
2. Body And Soul
3. Bright Mississippi
4. Five Spot Blues
5. Bolivar Blues
6. Just A Gigolo
7. Bye-Ya
8. Sweet And Lovely



---




---

Mobile Fidelity Sound Lab
recordings are distributed in Australia by
Rockian Trading