CHARLES MINGUS

MINGUS AH UM
UDSACD 2208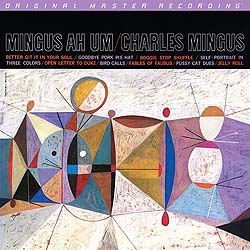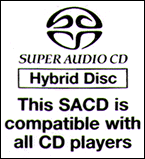 A Numbered, Limited-Edition, Hybrid SACD, Sourced from Original Master Tapes.



Blues and gospel-rooted jazz brilliance sparks with diversity, personality, and individualism: Charles Mingus' exuberant 1959 release Mingus Ah Um bridges accessibility and creativity, tradition and modernity



"Better Git It in Your Soul" not only serves as the name of the inviting, holler-appointed opening track of Charles Mingus' Mingus Ah Um. It epitomizes the spirit, urgency, freedom, and feel-it-in-your-bones passion of an album that - along with Miles Davis' Kind of Blue, Dave Brubeck's Time Out, and John Coltrane's Giant Steps - forms the Mount Rushmore of quintessential records from 1959-1960, jazz's watershed graduating class. Indeed, Mingus Ah Um is cited on practically every "greatest" list assembled and enjoys the rare distinction of wearing a prestigious crown in the Penguin Guide to Jazz and membership in the Grammy Hall of Fame. Now, it receives the sonic treatment on disc that it's always deserved.



Strictly limited to 3,000 numbered copies, Mobile Fidelity's hybrid SACD of Mingus Ah Um pops with contagious vibrancy, command, energy, and scale. The bassist's church-music roots spring to life in the form of blues themes, moaned vocals, spiritual motifs, and preacher-inspired riffs that register with hyper-realistic dimensionality and natural intimacy. Experienced as a seamless whole - just as the cigar-chomping composer intended - the band enters your listening room, its intertwined assembly of notes, phrases, pauses, shapes, and solos yielding something more music.



And clearly, Mingus ardently honored and prized even every seemingly non-musical aspect on his Columbia Records debut. Witness the unforgettable cover art, a painting by S. Neil Fujita, whose varied hues, abstract geometries, free-base forms, and ornate albeit clean presentation mirrors the seemingly impossible blend of accessibility, complexity, experimentalism, consistency, focus, individualism, and collectivity reflected in every passage of the incredibly diverse album. Or, simply look at the reverence Mingus displays for his ancestors - and their contributions to jazz's ongoing conversation and cultural relevance - via "Jelly Roll" (for Jelly Roll Morton), "Open Letter to Duke" (for Duke Ellington), and the hallmark ballad "Goodbye Pork Pie Hat" (an homage to Lester Young).



Above all, however, Mingus Ah Um stands as an exuberant tribute to the idea (and blueprint-caliber execution) of fully realized musical frameworks serving as launching pads for expressive interactions, responses, exchanges, and improvisations. At the core, personality, character, invention, and, color remain paramount. Mingus Ah Um acts as an aural representation of a philosophy the artist espoused before and after the recording sessions. In the liner notes to the record's follow-up, and penned shortly after the recording of Mingus Ah Um, he spoke of striving for "primitive, mystic, supra-mind communication" and avoiding the repetition, boredom, apathy, and cliché associated with falling into set patterns and mimicking the approach of recognized giants. In other words, he demanded each member of his band "play himself."



Nothing could be truer when you hear in such vivid detail the work of saxophonists John Handy, Shafi Hadi, and Booker Ervin, trombonists Willie Dennis and Jimmy Knepper, pianist Horace Parlan, drummer Dannie Richmond, and the genius bass playing of Mingus himself. The collective's technical acumen - be it multi-tone row scales, pedal point rhythmic patterns, traditional chords, melodic moods, harmonic lines, beginning/ending-blurring context, high registers, major and minor thirds (and absence thereof), pivot-point chromatics, diatonic manners, open fifths, and more - lingers not only in the mind, but invigorates the senses.



Musicians:
Charles Mingus, bass
Horace Parlan, piano
John Handy, alto saxophone, clarinet
Booker Ervin, tenor saxophone
Jimmy Knepper, trombone
Dannie Richmond, drums




1. Better Git It In Your Soul
2. Goodbye Pork Pie Hat
3. Boogie Stop Shuffle
4. Self-Portrait In Three Colors
5. Open Letter To Duke
6. Bird Calls
7. Fables Of Faubus
8. Pussy Cat Dues
9. Jelly Roll



---




---

Mobile Fidelity Sound Lab
recordings are distributed in Australia by
Rockian Trading