DIRE STRAITS

MAKING MOVIES
UDSACD 2186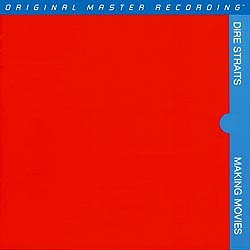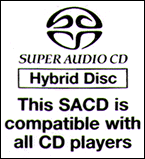 A Numbered, Limited-Edition, Hybrid SACD, Sourced from Original Master Tapes.



Dire Straits' third album released in 1980 expands their musical framework. The band comes into their own on Making Movies. Co-produced by Jimmy Iovine, this thematic album soars with personal songwriting and epic arrangements.



Cinematic landscapes and intricate passages sound sublime and the Mobile Fidelity Hybrid SACD of Making Movies, mastered from the original master tapes, features audiophile dynamics.



Bruce Springsteen pianist Roy Bittan, Mark Knopfler's guitar playing, and passionate performances turn Making Movies into a classic that includes hit songs "Romeo and Juliet," "Tunnel of Love" and "Solid Rock."



Making Movies marks a magnificent turning point in Dire Straits' career. Considered by many fans to be the group's most complete album, the 1980 set witnesses leader Mark Knopfler greatly expanding his songwriting palette and setting his storytelling amidst more complex, involving arrangements. Dire Straits also benefits from crucial contributions from Bruce Springsteen pianist Roy Bittan and the departure of rhythm guitarist David Knopfler. The songs spark with a mélange of poetry, passion, and cohesion that engages the senses and begs to be experienced again and again.



Mastered from the original master tapes, Mobile Fidelity's hybrid SACD of Making Movies breathes with reference-caliber airiness, spaciousness, dynamics, and separation. Produced by Jimmy Iovine and Knopfler, the record - which contains many Springsteen-esque elements - features the cleanliness and clarity that have long been Dire Straits trademarks. Compared to all prior digital editions, this disc features previously unattainable detail, information, and soundstaging. This is what audiophile recordings are all about.



You know you're in the presence of sonic greatness as soon as the first few seconds of the opening "Tunnel of Love" pass, as the introductory passage built on organ and piano - new additions to Dire Straits' palette - intertwine with the unmistakable coil-spring twang of Knopfler's guitar. The three-dimensional, full-bodied presentation of the latter instrument on this Mobile Fidelity SACD is alone worth the price of admission. Crisp, rich, and balanced, the sound brings Knopfler's Fender Vibrolux and Music Man HD130 amplifiers into your room. The romanticism of Bittan's piano, precision timekeeping of drummer Pick Withers, and steady roll of bassist John Illsley come across with similar potency, scale, and verve.



Always more about the whole than the sum of their individual parts, Dire Straits demonstrate that while Knopfler is the lynchpin, this record is a true band effort. Bittan's role cannot be overstated. His melodicism poetically complements Knopfler's subtle staccato rhythms and more than makes up for the exit of David Knopfler. Expansive and cinematic, the aptly titled Making Movies puts a premium on interrelated subjects (love, relationships, heartbreak) and deep-seated emotions that play out in heartfelt lyrics, intense singing, and epic frameworks. Everything clicks.



The album's power isn't lost on Iovine, who later told Rolling Stone: "The right people were in the room together. It really was making a record in the pure sense of the term. The whole thing sounds like one song. But you what that is? That's the writing, the guy who wrote it. He wrote the album like that; he wanted to make the album like that."



Indeed, the first five tracks - "Tunnel of Love," "Romeo and Juliet," "Skateaway," "Expresso Love," "Hand in Hand" - comprise a mini-suite united by theme, harmony, and spirit. Every member of the newly configured Dire Straits has a say in the shaping of the material. There's not a note out of place. Iovine and Knopfler's standout production puts it over the top.



1. Tunnel of Love
2. Romeo and Juliet
3. Skateaway
4. Expresso Love
5. Hand in Hand
6. Solid Rock
7. Les Boys



---




---

Mobile Fidelity Sound Lab
recordings are distributed in Australia by
Rockian Trading