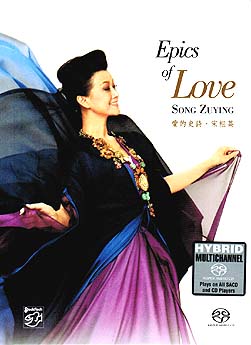 Epics of Love
An anthology of Ancient Chinese Poetry


Song Zuying soprano
China Philharmonie Orchestra
Yu Long, conductor
+ traditional instruments


SFR 357.9014.2



Multichannel Hybrid SACD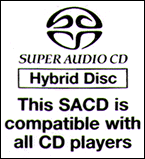 Renowned Chinese ethnic vocalist Song Zuying, accompanied by conductor Yu Long and "China Philharmonic Orchestra," perform an anthology of ancient Chinese poems that spans over 2,500 years of time. The essence of love, both graceful and epic, transforming over generations through the works of Chinese "Literati," is wonderfully embodied into the sensational vocal performance of this unique singer.



With an ensemble of prominent musical talents m the country, the album illustrates the marriage of East and West by modern classical orchestrations and choirs crossing-over with exotic Chinese solo instruments and recitals.



Engineer Günter Pauler received an invitation from the Chinese Opera and Dance Conservatory to be involved in an ambitious project with China's famous singer, Song Zuying — accompanied by the China Philharmonic Orchestra and many soloists — to record an anthology of ancient Chinese love songs. Pauler had worked for Chinese record companies previously and in a preliminary trip to Bejjing decided that the large studio of the Chinese National Radio should be the venue. After an assessment on the in-house technology and infrastructure Pauler decided to bring his own equipment, ranging from microphones to voltage stabilisation units.



A team of three — musicologist Hans-Jorg Maucksch, technical assistant Ines Breuer and Pauler himself — flew out for the sessions in September 2011 with the equipment, arriving in good time. For the main microphones they used a Decca Tree of three DPA 4041s and two Neumann TI-M 50s as out-riggers. Additional microphones were used for the string sections and seven soloist on traditional Chinese instruments like Gu Zheng, Er Hu, Ti Dzi, Xiao, and PiPa, two choirs, a male vocalist, recitalists and Song Zuying.



"Epics Of Love" is mastered in multi-channel hybrid SACD, with a 5.1 surround mix that captures the breathtaking acoustic ambience.



A 60-page book was the format of choice for the rich collection of original Chinese poems, English translations, literature synopses, studio and sessions photos, and more.