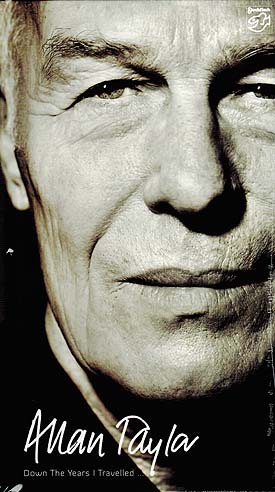 Allan Taylor
Down The Years I Travelled

SFR 357.9013.2
Double CD & Book





A double CD album packaged in a book including about 60 pages with explanations, liner-notes, photos and lyrics. A collection of 20 songs from Allanís recordings in the 80s and early 90s, plus the bonus song "Down the Years I Travelled," written especially for the project.



Allan Taylor about this album:
"The albums from which this collection of songs was taken were made between 1984 and 1995. This was without doubt the most creative period of my life. During this time, apart from writing and recording the songs for the albums, I was touring extensively, playing clubs, concerts and festivals throughout the world, and working on various projects for the BBC."



"Certain styles of recording have changed since those days, such as the type of reverb used, but overall the technical quality is superb. Günter Pauler, Hans-JÖrg Maucksch and Inés Breuer of Stockfisch Records have done an excellent job in collating and mastering the chosen tracks. They have worked to their usual high standard of excellence to produce something that I had hoped would one day happen – a "best of" from my T Records years."



These 20 songs from the time, when Allan Taylor was not yet produced by Stockfisch Records, have been carefully remastered by Hans-Jörg Maucksch. And, look at the list of Allan's fellow-musicians at that time: e.g. Rick Kemp (Steeleye Span), Maartin Allcock (Fairport Convention, Jethro Tull) or Mike Silver. Allan Taylor recorded the newly composed title song together with Lutz Möller playing the grand piano: "Down The Years I Travelled …" specially for this release.


CD 1

1. Down The Years I Travelled 4:00
2. Win Or Lose 5:27
3. Choose Your Time 3:08
4. Golden Island 4:24
5. There Was A Time 3:15
6. Songdance 3:23
7. Jimmy's Song 3:17
8. Gentle Does It * 4:05
9. Banjo Man 4:51
10. Chimes At Midnight 5:18
11. Boy Becomes The Man 3:43
Total Time 45:14
CD 2

1. Maybe Another Day 5:27
2. Cry From The Heart 5:31
3. Don't Think Twice, It's All Right * 4:28
4. So Long 4:37
5. Let It Come, Let It Go 4:41
6. The Merlin Café 4:15
7. Carried On The Wind 4:28
8. Come Home Safely To Me 3:27
9. Let's Go To Paris 4:28
10. Across The Borderline * 4:14
Total Time 45:54
All songs, words and music written by Allan Taylor except *
Gently Does It - Rab Noakes (Used by permission)
Don't Think Twice, It's All Right - Bob Dylan
Across The Borderline - Ry Cooder, John Hiatt & James Dickinson