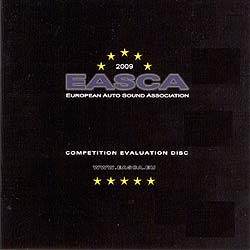 2009
EASCA
EUROPEAN AUTO SOUND ASSOCIATION

COMPETITION EVALUATION DISC
SFR 357.9009.2





HiFi is always an illusion. An illusion that tempts your imagination by making your eyes see what you are listening to. You can help your imagination by closing your eyes.



EASCA's competition division provides a platform for all sound-quality fans in Europe. In 2008 they started with eight nations all over Europe. For more information have a look at the website: www.easca.eu.



Although this CD is designed for judging car-stereo-systems, it is also a very helpful tool for your home stereo. But it is not only a tool, because tools are for working. It is a collection of some very fine Stockfisch tracks, designed for your audiophile pleasure.


01. left-right test
02. pink noise - phase-test
03. Chris Jones: No Sanctuary Here 3:45
from CD "Roadhouses & Automobiles" SFR 357.6027.2
04. Steve Strauss: Youngstown 5:06
from SACD "Just Like Love" SFR 357.4036.2
05. Allan Taylor / Chris Jones: The Tennessee Waltz 4:15
from CD "Behind The Mix" SFR 357.9021.2
06. Sara K.: I Can't Stand The Rain 3:38
from SACD "Hell Or High Water" SFR 357.4039.2
07. Eugene Ruffolo: Beyond Love 3:44
from SACD "In A Different Light" SFR 357.4044.2
08. Steve Strauss: Closer 4:51
from SACD "Just Like Love" SFR 357.4036.2
09. Ewen Carruthers: The Amber Room 4:58
from CD "When Time Turns Around" SFR 357,6037.2
10. Bassface Swing Trio: Embraceable You 4:37
from SACD "The Bassface Trio Plays Gershwin" SFR 357.4045.2
11. Blue Chamber Quartet: Children's Song 12 & 16 3:39
from SACD "First Impressions" SFR 357.4046.2
12. Gergely Boganyi: Chopin Nocturne Es-Dur op.9 Nr.2 4:47
from SACD "The Complete Nocturnes" SFR 357.4051.2-2
13. piano chord (mono)
14. sinus 50 Hz
15. sinus 315 Hz
16. sinus 500 Hz
17. sinus 2500 Hz
18. pink noise



(total time: 49:33)