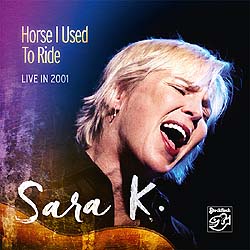 Sara K.

Horse I Used To Ride
Live in 2001
SFR 357.9003.2



Audiophile CD


Sara K.: "In April of 2001, we rolled in to Sülbeck. It was the end of a three week solo tour and I was scheduled to play the 'Gasthaus Zum Esel' The Esel is a renovated barn house which holds around 200 people. I was warmly greeted by Jorg and Birgit, the owners. They introduced me to the soundman, Günter Pauler. We became a team and proceeded to have an unusual sound check. He actually showed an interest in my four string guitar. After a good brief mix Günter asked me if he might record the concert and I agreed.



I returned to the Esel that evening. It was to be a full house. The audience was enthusiastic and welcoming. Günter introduced me to his assistant, Hans-Jörg. For the first time on a tour I took requests from the audience and it was a great gig with a standing ovation and many new friends, including Manfred, a luthier who only a year later would build me my first authentic four string guitar.



After the show, Günter asked if I would like to come see his studio the following day. I was expecting a small, in-house studio and had no idea what was to come. The studio was an elaborate state of the art room located in a remodeled medieval cellar, once inhabited by monks. A long story put short, I was very impressed and realized that GŁnter was not only a soundman but producer, as well. As I was leaving he said he would like to record me someday and we bid our farewells.



After arriving back home in the states I received a recording of the concert from Günter. Added to nearly five songs in the mix was a guitar player who sounded exciting and promising. That guitar player was Chris Jones. I immediately responded to Günter that I would love to record with him."


1. Stop Those Bells 4:19
2. Trust Somebody 5:18
3. He Got You * 3:08
4. What's A Little More Rain * 5:11
5. Horse I Used To Ride 4:38
6. Ivory Cage 2:34
7. Gipsy Eyes 4:18
8. Turned My Upside Down * 5:27
9. What Matters * 3:56
10. Burning Both Ends * 5:39
11. If You Close That Door 3:44
12. After There Is A Blizzard 5:15
13. Like A Rolling Stone 9:30
* with Chris Jones