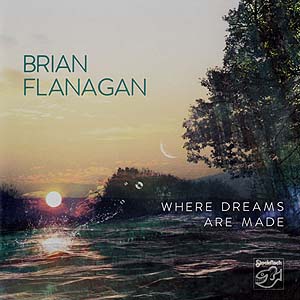 WHERE DREAMS ARE MADE

BRIAN FLANAGAN
180 gram Audiophile LP
SFR 357.8091.1


"Love, loss, self-pity, recognising chances and taking them - or not, almost mystical nature experiences, life-changing encounters, art and artists, environmental protection, human rights: it is truly a broad, moving and very current spectrum of themes which Irish singer-songwriter Brian Flanagan has worked through in the eleven tracks of his first Stockfisch recording. Until recently he has released a string of successful singles.



The melodies are catchy but not banal. After having listened to the album a few times you'll find many of the wonderful tunes continually rotating around in your head - getting more familiar and enjoyable with each turn. That is of course also due to Flanagan's warm and velvety voice, the soft background choirs and the unassuming but wonderfully musical and supportive instrumental backing.



Good examples are the haunting lamentations of the flute on the title track "Where Dreams Are Made", the crystal-clear yet warm Irish pipes in "Flowers In The Window" - a piece in memory of a friend, and the piano dripping notes like a tap in the self-searching "Whole Lot Of Livin'". The harmonium in "Lagan Love" is played by Flanagan himself, conjuring up the picture of mists rising from the river.



Brian Flanagan's curriculum vitae doesn't reveal all that much, but after reading about and above all listening to the album, you feel you know him pretty well. In the booklet he divulges what inspired him to each song - often very personal experiences - a wealth of information for music lovers." Anne-Lise Eriksen


Brian Flanagan - vocals, guitar, Indian harmonium
Jens Kommnick - guitars, uilleann pipes, banjo, bouzouki
Lutz Möller - piano, keyboard
Jean Kelly - harp
Ian Melrose - electric-guitar, lap steel guitar, flute
Lea Morris - backing vocals
Hans-Jörg Maucksch - fretless & electric bass
Sven von Samson - percussion
A Side
1. Flowers On The Window
2. The Gift
3. The Painter
4. Whole Lot of Livin'
5. The Question

B Side
6. Where Is The Love
7. Home
8. Logan Low
9. Where Dreams Are Made
10. To Love
11. Fly Goodbye