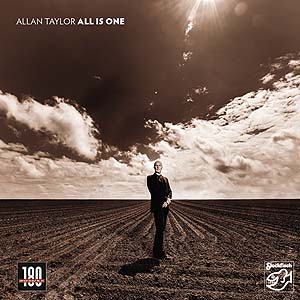 ALL IS ONE

ALLAN TAYLOR
180gram Audiophile LP
SFR 357.8078.2



On previous albums Allan Taylor sang songs about the road, about all the different countries and all the hotel rooms… The new album goes deeper — into time and ultimately to the recognition: "All is one." A powerful philosophical statement delivered with virtuoso lightness.



Someone who is approaching 70 and calls his album "All Is One" obviously has something to say. Just recently Allan Taylor faced one of life's tests — a severe shoulder disfunction prevented him from playing guitar — not an easy situation for a musician. In the meantime that is thankfully all healed and forgotten. Not shying away from the strain and frustration involved, he worked his way back to his instrument, his fans and to the recording studio at Stockfisch Records. He could have presented this album as a big comeback, a resurrection, but that is simply not the style of this master of contemplative tones.



Taylor plays his favourite Martin guitars with the same sensitivity for body, expression and autonomy which one finds in his vocal performance — always moving, and never merely vague. In the last song Allan Taylor summarizes: "I may not be the perfect man, I guess Iíll do the best I can" — and ends the album with the bemused lightness of a simple D-major chord. Maybe a touch too modest for a master?



Allan Taylor, vocal and guitar
Ian Melrose, guitars, flute, tremolo guitar
Lutz Möller, piano, keyboard, hammond B3
Barnaby Taylor, piano / Lea Morris, harmony vocals
Lucile Chaubard, violoncello / Grischka Zepf, electric bass
Hans-Jörg Maucksch, fretless bass / Sven von Samson, percussion
Beo Brockhausen, percussion, bowed psaltery, saxophone
and guest: Vlado Kreslin, vocals
A Side
Endless Highway
Let The Music Flow
All Is One
We Stood As One
I Followed Her Into The West
B Side
One Last Smile
Plenty For The Few
The Sky
Like A Cloud (Canzone del Ripensamento)
The Best I Can