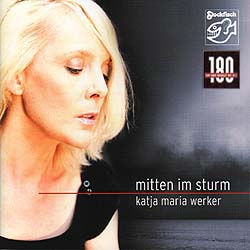 Katja Maria Werker



mitten im sturm

SFR 357.8074.1



Direct Cut Metal Master 180 gram LP

Stockfisch Records release another 180 gram Direct Metal Master 180g LP to satisfy the many requests from audio enthusiasts around the world.



Singer-songwriter, musician and author Katja Maria Werker is now on Stockfisch with her new album, "mitten im sturm" ("In the Midst of the Storm"). This woman with the sensitive, elfin-like features makes an impression wherever she goes; on the stage of her dreams at the time when she was still collecting one refusal after another from the record labels frequented by her artistic role models. In her life as on the stage, storms have not been in short supply; as in the title: "Aus dem Beton" ("Out of Concrete"), it is revealed: the moon is inhabited. And a rough landing can still be followed by a smooth arrival – in this case by art.



"mitten im sturm" is a richly facetted album – squally periods followed by intermittent calm, the rise and swell of the waves: Katja Werker's own compositions; fresh, energy-laden pop songs ("Crossfire"), some English and German folk; notably a Peter Gabriel classic from the Seventies ("Here comes the Flood") not to mention an awe-inspiring rendition of the German hit pop song "Über sieben Brücken musst du gehn". All of the arrangements are the artist's own.



Each of the album's tracks is unique, and all are highly authentic; personal in the literal sense of the word: human experience, a biography, of strife, of endeavour and triumph in life and art, heard - and felt - through the music ("Tief im Innern"). The eye of the storm is the place where pain and healing are neighbours, where "live or die" is the imperative, and hope is the tender but determined plant which pushes its way up out of concrete.


Musicians:
Katja Maria Werker - vocal, guitar
Ian Melrose - guitars, whistle
Lutz Möller - Fender Rhodes, Mellotron
Alessandro Gulino - bass
Hans-Jörg Maucksch - bass
Martin Großkurth - hammond b3
Peter Funk - dobro
Lucille Chaubard - violoncello
Beo Brockhausen - Hang, udu, saxophone, hulusi
Lea Morris - backing vocals
Side A
1. tief im innern (werker) 3:47
2. aus dem beton (conrads/stoppok) 4:15
3. crossfire (flowers) 3:49
4. mitten im sturm (werker) 6:01
5. vom selben Stern (humpe/tawil/fischer/kirchner) 3:08
6. here comes the flood (gabnei) 3:15



Side B
1. echo (werker) 4:33
2. die zeit mit dir (100%) (werker) 3:49
3. zusammenleben (theodorakis/woitkewitsch/seferis) 3:17
4. über sieben brücken musst du gehn (swilims/richter) 3:35
5. dreh den spieß um (werker) 3:35
6. Worauf wartest du (werker) 4:59
total time 48:12