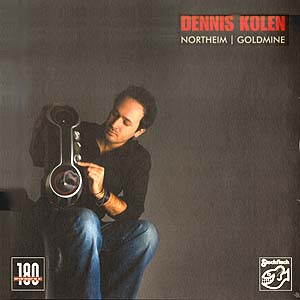 DENNIS KOLEN
NORTHEIM | GOLDMINE
SFR 357.8059.1



Direct Cut Metal Master 180 gram 45rpm 2-LP

Stockfisch Records release another 180 gram Direct Metal Master 180g LP to satisfy the many requests from audio enthusiasts around the world.



Dennis Kolen is a young singer/songwriter from Rotterdam/The Netherlands. He grew up with the music of his fathers Vinyl collection: Jackson Browne, James Taylor or Paul Simon had been Dennis' musical vision and orientation. Above all his influences came from the protagonists of the West Coast Music in the seventies: The Eagles, Poco, Crosby,Stills & Nash… – listen to the great harmony vocals on this LP!



This singularly expressive voice belongs to a man who fears not the great ones, the likes of the Beatles or Joni Mitchell. He simply reaches out for what all great artists pass on. This Northeim gold mine has musical gold on offer profusely – musical pearls on a string.


A-side
1. The Shape Of Things
2. Seaside Rendezvous
3. The Ties That Bind
4. Stay With Me
5. Stand Inside Love

B-side
1. For Cloud Dog And Jane
2. Hey California
3. She Knows Me So Well
4. The Boy In The Photograph
5. Halfway To Heaven
6. Your Goodnight Blues