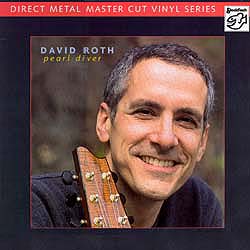 DAVID ROTH
PEARL DIVER
SFR 357.8031.1



Direct Cut Metal Master 180 gram LP


Direct-to-disc has been, and still is, the biggest challenge in audiophile music production. Unforgettable are the works of Sheffield Lab, Jeton and courageous cutting engineers like Stan Ricker, who out-maxed the technical possibilities of that time by provocative back-cutting.



David Roth was born in Chicago and lives on Cape Cod - a domicile for musicians and artists, a slightly different America. He has already released 6 CDs in the US - for his Stockfisch debut, he made his way to the Stockfisch studio in Northeim, Germany and recorded 12 wonderful songs and one instrumental piece. An outstanding album - intelligent, poetic and very emotional.



"David Roth, a powerful new singer-songwriter has reached our hearts. With voices like his still singing, there's a certainty that the candle will remain lit, the hope reasserted and the dream still sung…" - Peter Yarrow (Peter, Paul & Mary)



"David writes and sings songs with a devastating combination of heartfelt wisdom and incisive wit. In my eyes he sets a new 'contemporary singer/songwriter' standard for the rest of us to aspire to, and it's a standard that is very, very high…" - Christine Lavin



A-Side:
1. Before I Die 3:18
2. Bake Sale 4:53
3. Rising In Love 2:47
4. Pearl Diver 4:01
5. John and Josie 6:29



B-Side:
1. The Jordan Waltz 3:33
2. Vincent * 5:08
3. That Kind of Grace ** 5:35
4. Some Kind of Hero 4:06
5. Lullaby 3:44



All songs by David Roth except * Don McLean
and ** Anne Hills & David Roth