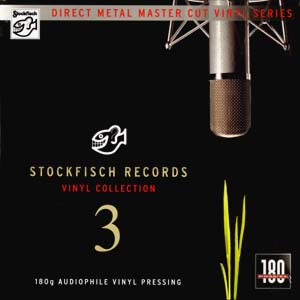 VINYL COLLECTION VOL. 3

Various Artists
180 gram Direct Cut Metal Master Audiophile LP
SFR 357.8015.1



For the third edition of our Stockfisch Vinyl Vinyl Collection this time we selected titles from our current program, which fit soundwise particularly well on vinyl record: deep-sounding, smooth and transparent timbre characterize the 10 pieces on Vol.3.



Among them are "good old friends" such as ALLAN TAYLOR or STEVE STRAUSS - but also Günter Pauler's new discoveries for Stockfisch like CARRIE NEWCOMER from Indiana, Kerstin Blodig from Norway or the Anglo-Irish band RANAGRI.



Stockfisch is particularly proud and happy to welcome the famous American singer-songwriter CARRIE NEWCOMER to the fold. Her rich velvety voice and heartfelt songs captivate audiences world-wide. The Norwegian singer/songwriter/guitarist KERSTIN BLODIG presents her debut-album on Stockfisch. The recordings took place in a clearing in one of Germany's largest forest areas - in Solling. The rich natural atmosphere - including birdsong & sounds from the vegetation - fits wonderfully to Kerstin's haunting Norwegian songs and soulful acoustic-guitar playing.



Four London musicians; one traditional Irish player, two classically trained, and one blues singer and guitarist, all with a passion for folk music. This quartet named RANAGRI sound like a precious, unspoiled spot of beauty – the Irish village of Ranagri that gave the band its name.



ALLAN TAYLOR sings a very introspective song from his latest album "All Is One". New York based STEVE STRAUSS introduces his third album and the Stockfisch-Stars DAVID MUNYON and PAUL O'BRIEN also include excerpts from their latest.


SIDE A
1. PAUL O'BRIEN - SILVIA'S RIVER 4:00
2. STEVE STRAUSS - SEA OF DREAMS 3:32
3. CARRIE BEWCOMER - HAUNTED 3:06
4. DAVID ROTH - I'LL BE HERE FOR YOU 3:23
5. THE GREATER GOOD - NOWHERE FAST 3:26



SIDE B
1. CARL CLEVES & PARRISA BOUAS - THE FULL FORCE OF THE WIND 4:25
2. RANAGRI - STRANGE WORLD 3:14
3. DAVID MUNYON - SONG FOR DANKO 3:49
4. KERSTIN BLODIG - THE FERRYMAN 3:37
5. ALLAN TAYLOR - THE BEST I CAN 2:22