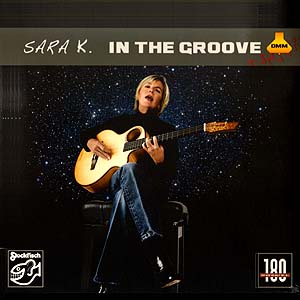 SARA K
IN THE GROOVE
SFR 357.8011.1



Direct Cut Metal Master 180 gram 45rpm 2-LP


Stockfisch Records release another Direct Metal Mastered LP as they continue their new IN THE GROOVE series.




The vinyl-LP normally has two sides – and Sara K. presents two sides of her musical artistry! On the one side we have her impressive and very convincing (solo) live concerts, where she fascinates her audience solely with her unique voice and her almost fragile-sounding accompaniment on the 4-string guitar. On the other side there are her beautiful studio recordings, where a whole range of musicians complement her pieces with an endless palette of musical styles, instruments and ideas: from concert harp, string quartet and accordion through to fretless bass, tuba and piano.



We want to document these two sides of her work on the 2nd release from the new Stockfisch "in the groove" series.


A-side Studio Side
1. I Canít Stand The Rain
2. Sizzlin'
3. Curtain Calls
4. Streetlightís On
5. Donít I Know You From Somewhere?

B-side Live Side
1. Stop Those Bells
2. Water Falls
3. (Would You) Break My Heart
4. Gypsy Eyes
5. What Matters