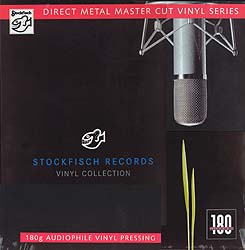 STOCKFISCH RECORDS
VINYL COLLECTION
SFR 357.8006.1



Direct Cut Metal Master 180 gram LP


Direct-to-disc


During the eighties not only experts and professionals assured: the vinyl record will be squeezed out of the market by new digital sound media very soon. From today's view this is an obvious mistake, because turn tables, preamplifiers, and vinyl records still exist!



Stockfisch-Records and its mastering studio Pauler Acoustics never acted on this assumed trend. Far from it! Stockfisch had always dedicated the black discs deliberately to selected recordings: think about the vinyl releases of Sara K.'s "Water Falls" or "Pearl Diver" by David Roth.



Stockfisch-Records selected 10 extraordinary tracks from the Stockfisch repertoire of the last 4 years and compiled them for another Stockfisch LP of uncompromising quality (180g vinyl, audiophile pressing, DMM cutting, detailed booklet with photos and explanations).


A-Side:
Artist
Title
Time
Album
Catalogue #
1.
Chris Jones
No Sanctuary Here
3:47
Roadhouses & Automobiles
SFR 357.6027.2
2.
Sara K.
Stars
4:15
Hell Or High Water
SFR 357.4039.2
3.
Paul Stephenson
Captain of the Loving Kind
3:47
These Days
SFR 357.6029.2
4.
Christian Willisohn
Caruso
6:05
Hold On
SFR 357.4038.2
5.
David Roth
Song For You Far Away
3:40
More Pearls
SFR 357.6041.2
B-Side:
Artist
Title
Time
Album
Catalogue #
1.
Steve Strauss
Closer
4:15
Just Like Love
SFR 357.6036.2
2.
Ewen Carruthers
Paris
3:30
When Time Turns Around
SFR 357.6037.2
3.
Eugene Ruffolo
The Same Kind Words
3:50
The Same Kind Words
SFR 357.4044.2
4.
Mike Silver
Heaven
4:44
Heaven In Mind
SFR 357.6035.2
5.
Louis Capart & Duo Balance
Au Large du Gueveur
5:19
Voyage - d'une Óle à l'autre
SFR 357.6043.2