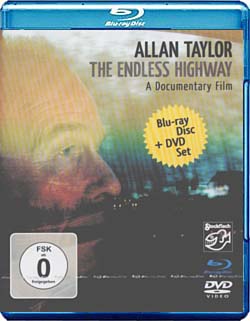 Allan Taylor



The Endless Highway
a documentary
SFR 357.7063.2



Blu-ray Video Disc with High-rez Audio + DVD Video


The first documentary film about a Stockfisch artist: Allan Taylor´s life as musician. Allan says: "What we aimed to do was to make a film about a travelling troubadour, how he gets his ideas for songs, how he writes songs, how he plays the concerts and how he travels from city to city - we wanted to show the lifestyle of a singer-songwriter."



"Having been on the road now for forty years I can't imagine what else I could have done. Perhaps if I had been better at the business side of music I might have been rich and famous, but my problem was I would never compromise in life or music, and really, all I wanted to do was to write songs, play music and see the world…". "This film also delivers insight into the genesis of a song: idea, lyrics, composition, performance and recording in studio."



So, you can gain an impression of recording sessions with Allan during his work on the Stockfisch projects "Old Friends - New Roads" and "Leaving at Dawn."


Thomas Berliner (the hitchhiker), Dick Gaughan, Phil Jackson,
Jean-Marie Selvais, Lutz Möller, Günter Pauler
Narration written and spoken by: Allan Taylor
French Narrator: Christian Crahay
Directed by: Patrick Ferryn / Delegate Producer: Günter Pauler
Co-Producers: Michel Baudour & Patrick Ferryn
Director of photography & Image: Michel Baudour
Additional images: Patrick Ferryn, Sylvain Fradier,
Jacques Tiete, Sarah Rotter
Editing: Thomas Baudour
Sound Recording: Günter Pauler, Hans-Jörg Maucksch, Inés Breuer
Sound-Mix & Mastering: Hans-Jörg Maucksch at Pauler Acoustics