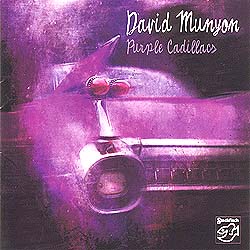 Purple Cadillacs

David Munyon
CD
SFR 357.6083.2


Stockfisch releases a CD with the latest recordings of David Munyon, his seventh for Stockfisch Records. These 13 songs from the tireless creative songwriter and guitarist from Alabama can be heard on this new album "Purple Cadillacs" that was recorded in Northeim.



Including many pieces written in the last year, as well as new recordings of his "classic" repertoire like "Song For Danko", "Rosa's Cantina" or "Prayers Of Elvis Presley." David Munyon sings with his known intense voice about typical American themes ("Riding Around The World"), about emotions (,"Watercolors, Baby For You"), about spirituality ("Help Me Krishna") - Munyon's dramas of the heart recall Dylan, Cohen and Townes Van Zandt, but the huskied honey voice and visions of redemption are inimitable.



The music and arrangements on "Purple Cadillacs" is reminiscent of David Munyon's Stockfisch CD "Poet Wind" from 1998. This is certainly connected with the fact that David wanted the participation of British musician Mike Silver, who adds his guitar and his typical background vocals to give the songs on "Purple Cadillacs" a characteristic color.


01. Riding Around The World 4:49
02. Song For Danko 3:49
03. Watercolors, Baby For You 5:19
04. Rosas Cantina 5:25
05. Kansas 4:39
06. The Ballad Of The Anita Fernando 5:27
07. Hendrike's Ford Fiesta 4:28
08. Radha 6:01
09. Move Back To Amsterdam. The Ballad Of Stray Dog 6:06
10. Prayers Of Elvis Presley 5:22
11. Help Me Krishna Song 7:00
12. Bright To Brighter 4:45
13. Whenever You Fall In Love Again 4:28