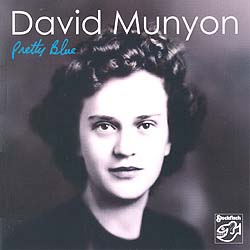 David Munyon

Pretty Blue

SFR 357.6072.2



All of David Munyons songs are preserved in his already legendary and voluminous songbook, which in the meantime contains almost 500 unique songs.



Twelve wonderful songs have been carefully chosen from this collection – bedded in a varied mixture of styles from Americana, blues and folk to rock – for the eagerly-awaited new studio album "Pretty Blue". These profound and predominantly autobiographical stories tell of stations in David Munyons eventful life. Each song is a jewel in itself, shining with a dazzling beauty born of David's love and deeply felt beliefs.



Sit back, enjoy and soak in this special listening experience with goose-bumps guarantee! David Munyon sings many extremely personal, deeply touching love songs with his very intense voice – a voice which gets right under your skin, and these songs could not have been arranged and instrumented more sensitively or suitably: among others by Lutz Möller on the Fender Rhodes, Ian Melrose on guitars, Hans-Jörg Maucksch and Grischka Zepf on basses.



An extensive and detailed booklet – with surprising photos from David's private family album and fascinating liner notes about his cryptic lyrics – rounds the whole thing off perfectly and is a fitting accompaniment to this masterpiece!



David's dream of becoming a famous movie star unfortunately didn't transpire, as we can glean from the booklet, but that is just one aspect. It is an irrefutable fact that within the American singer-songwriter tradition he is on a par with such luminaries as Bob Dylan and Townes van Zandt, a fact which far too few music-lovers have discovered for themselves. Brian Wilson quotes Munyon as being "probably one of the best songwriters ever!" Enough said!



Musicians:
David Munyon vocal & guitar
lan Melrose acoustic & electric guitars, dobro, low whistle
Lutz Möller fender rhodes
Dagmar Wirtz backing vocals
Hans-Jörg Maucksch fretless bass, percussion
Grischka Zepf electric bass
Bernd Junker drums




1. Jimi's Guitar 4:16
2. Mercy In Her Eyes 4:21
3. World Love 4:38
4. Pretty Blue 4:06
5. I Want Your Love 5:42
6. On The Autobahn 6:43
7. Hollywood Town 8:38
8. Carolina Song 5:12
9. Drive To LA. 3:42
10. Atlanta 4:51
11. Rock 'n' Roll Things 6:28
12. Lover Hold Me Now 6:07



total time 64:50