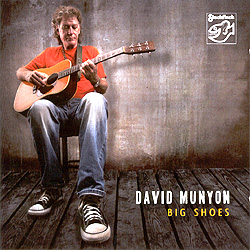 Big Shoes


David Munyon

SFR 357.6058.2



There are singers whose music reaches so deep down inside of us that we hardly believe that this could be possible. They break us apart, pacify us, wound us and heal us.



To all the pain and the love, they lend their voice. To the uncertainty, the anticipation and the humility. To life, to enchantment and to death.



Such a singer is David Munyon. His song comes from a depth where all our songs have their roots. He sings with a voice as if it would come from another time. He plays the guitar as if it's sole purpose was created for his harmonies. Quiet, very quiet but enveloping, very enveloping.



This man can delve deep into your soul when you experience him on his concerts. He lets it happen. He's like an open book. His biography reads like a novel. From coming and going. From believing and hoping. From success and losses. From defeat. From recovery. From survival.



Coinciding with David Munyon's European Tour in spring 2009, Stockfisch Records are releasing this new CD Album: "Big Shoes" where David Munyon sings folk and rock songs of his favourite musical heroes interpreted in his own unmistakable style.


01. 0l '55 (Tom Waits) 5:12
02. Who'll Stop The Rain (John Fogerty) 3:36
03. Imagine (John Lennon) 4:16
04. Sugar Mountain (Neil Young) 4:46
05. Louisiana Rain (Tom Petty) 4:58
06. A Hard Rain's A-gonna Fall (Bob Dylan) 6:55
07. Father And Son (Cat Stevens) 3:06
08. 500 Miles (Hedy West) 2:36
09. Purple Rain (Prince) 7:30
10. Hello In There (John Prine) 4:13
11. Forever Young (Bob Dylan) 3:47
12. Fire And Rain (James Taylor) 3:25
13. Yesterday (John Lennon/Paul McCartney) 3:17
14. Angel From Montgomery (John Prine) 4:51
15. Atlantic City (Bruce Springsteen) 4:47
16. Industry (Lee Clayton) 9:20



total playing time 76:44