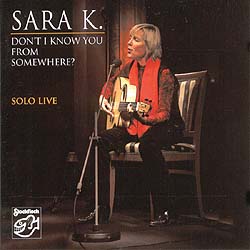 Sara K
Solo & Live



Don't I know you from somewhere?


SFR 357.6055.2


Sara K.ís voice and her four-string guitar!



Sara K. was invited by the German radio station mdr (Mittrldeutsher Rundfunk) to play a radio concert in Leipzig, the famous city in Saxonia, where Joh. Sebastian Bach lived and worked.



On Novemeber 8th, 2007 she performed a convincing solo concert, which Günter Pauler had been asked to record for broadcast. As everybody was so happy with this performance, Stockfisch-Records decided to release this concert on CD.



1. Introduction
2. Donít I Know You From Somewhere?
3. When I Didnít Care
4. Stop Those Bells
5. After Thereís A Blizzard
6. Sizzliní
7. Gypsy Eyes
8. What You Donít Know
9. Aura of the Blade
10. Fish Outta Water
11. I Couldnít Change Your Mind
12. Man-Child
13. Burniní Both Ends
14. Whatís A Little More Rain
15. If I Could Sing Your Blues



total playing time 59:35