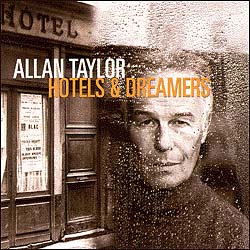 Allan Taylor
Hotels & Dreamers

SFR 357.6028.2


Allan Taylor - vocals, guitars
Chris Jones - guitars
Martin Huch - hollowneck resophonic guitar
Beo Brockhausen - saxophone & percussion
Thomas Körber - e-guitar
Hans-Jörg Maucksch - fretless bass & string arrangement
Saird de Jong - viola
Thomas Klippel - hammond b3 Grischka Zepf - electric bass Lutz Möller - piano
Simone Mittelbach - 'cello Nils Tuxen - pedal steel Christiane Eiben - harmony vocals
Christine Maringer-Tries - harmony vocals

From New York to San Francisco, from Mexico to Morocco, from the south of France to the Beat Hotel in Paris - this was the journey taken by the Beats. It was aesthetic and it was spiritual and if a little extra substance helped them find Nirvana, so much the better it seemed. Along the way they created their anarchic poetry and prose, breaking down the walls defending so-called High Art Culture and banging on the doors of the literary establishment, who hid from the onslaught in fear that their day was over. Though I never met the luminaries of that scene, I knew many writers and musicians who followed in their wake and took that road, in part or in full, who honed their styles and collected experiences that were later to come alive in novels, poems and songs and in anecdotes shared over drinks in hotels and bars.
…
Allan Taylor, July 2003.


1. The Beat Hotel 6:54
2. The Stranger 3:45
3. Frenchtown 4:47
4. Los Companeros 6:08
5. For Those We Knew 3:53
6. Running On Dreams 5:20

7. The Mission Hotel 4:50
8. For What Itís Worth 4:50
9. Some Dreams 4:29
10. Pearls and Wine 3:58
11. When Time Is Short 5:55
total time: 55:21