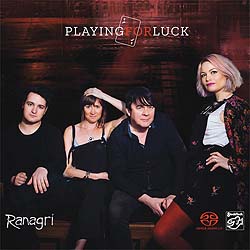 RANAGRI
PLAYING FOR LUCK
SFR 357.4096.2



Hybrid Stereo SACD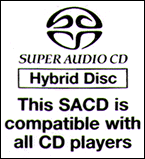 This sounds like a recipe for disaster. Here we have four stubbornly independent artistic individuals, a creative quartet of highly-trained instrumentalists, two women, two men, each with their own moving and impressive backgrounds, four unmistakable voices, four uniquely individual perspectives on root work and euphony - and yet: sometimes true magic lies in just such an unlikely but inspired mixture.



Simple genre-labeling is just impossible here. When Irish folk traditions meet the vibrant melodies of a lively city like London, when classical instrumental training collides with the hard hands-on club experience of the blues musician, when an intellectual understanding of music rubs shoulders with a clearly audible knowledge and feel for the golden decades of pop music, it is precisely this immense richness of related and associated styles, sources and roots that make this rich and soulful bundle of a dozen songs so unique and radiant.



Regardless of whether you have an award-winning harpist, a flute player comfortable in all styles, a busy multi-instrumentalist or a singer-songwriter who travels the world, these different backgrounds and horizons, experiences and peculiarities flow seamlessly into the Ranagri melting pot. The resulting music-mixture is a unique, sometimes singable, sometimes mystical musical fairytale world between intricate folk music, noble and elegant pop, artful and beautiful sounds, sympathetic pub-rock and flowing, eloquent singer-songwriter art.



The inquisitive listener who likes to read between the lines, to delve below the surface and detect the references might feel he/she recognizes a melodious echo of Clannad, a quirky remark in the style of Ray Davies, a soft-voiced wisdom a la Luka Bloom, a cultivated Christopher Cross elegance or the flowery vocal splendor of the Mamas and the Papas, but in the final reckoning it is simply the combined, sublimely powerful and sometimes wonderfully over-the-top creative imagination of these four musical magicians which brings us such mature instrumental craftsmanship, finely-tuned vocal harmonies, tradition and talent, heart and mind, spirit and feeling to a perfect state-of-the-art studio environment.



"Four Irish and British multi-instrumentalists make up Ranagri, whose intricate arrangements benefit from Eliza Marshall's contributions on flute and Eleanor Turner's electric harp. Lead singer Donal Rogers is the primary songwriter on the album. While Ranagri's musical influences date back centuries, Rogers' words don't skirt the here and now - and, in fact, the Brexit-based "The Medication Show" explores the dangers of romanticizing the past. There's a dark tinge to Ranagri's music and lyrics that, along with a rich blend of acoustic instruments, makes for an engaging listen… Sounds like Stockfisch is still bringing listeners closer to the music while Ranagri, following in the footsteps of Elster Silberflug and Fiedel Michel, adds to Stockfisch's rich legacy of folk groups." - Jeff Wilson, The Absolute Sound, October 2019


Donal Rogers, lead vocals, guitars, bass, memotron
Eliza Marshall, flute, bass flute, whistles, bansuri, shakuhachi, harmonium, backing vocals
Eleanor Turner, electric harp, clarsach, piano, backing vocals
Joe Danks, bodhran, tenor guitar, guitar, drums, percussion, backing vocals

1. The Strangler 3'38
2. Devil's Need 4'14
3. The Medication Show 3'49
4. Like My Enemy 2'23
5. The Thief 5'05
6. Sometimes Home 4'37
7. Trees 3'44
8. Out There 4'21
8. Waiting For The Rain 3'24
10. Falling Down 3'07
11. Colder 3'12
12. Liberty 2'48



Total playing time 45'38