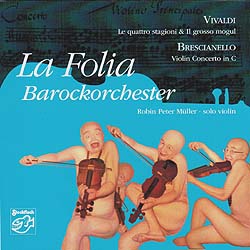 La Folia Barockorchester
Vivaldi & Brescianello Violin Concertos
Including la quattro stagioni & il grosso mogul
SFR 357.4086.2



Hybrid Stereo/Surround SACD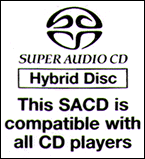 A perfect location (Dresdener Palais im Grßen Garten), an experienced recording team with mastermind Günter Pauler, state-of-the-art recording equipment - and a courageous, professional baroque music ensemble, specialized in the music of the Baroque era: The LA FOLIA BAROCKORCHESTER.



"La Folia" - in the Baroque era this term stood for boldness, wild passion, boisterousness, welcome distraction and altogether meant an artistic attitude of liberty and excessive creativity. Ever since its founding in 2007 La Folia Barockorchester has, on period instruments, stimulated the international music scene with these same attributes and is known for causing a furore - in the best possible way. This young ensemble, with its founder and concert master Robin Peter Müller, stands for lively and rousing interpretation of music from the 17th and 18th centuries. As historically informed musicians, they are always looking for ways to transport emotions and meanings of past centuries to be experienced by modern audiences.



Vivaldi: "Le quattro stagioni" - The Four Seasons: This new interpretation by La Folia Barockorchester offers perhaps a chance to see Vivaldi's masterpiece in a new, somewhat contemporary light. It gives us something to think about, makes us examine the relation between humans and nature: Europe suffered from a Little Ice Age between the 15th and the 18th centuries, whose economic, political, and cultural consequences still remain to be examined. Among other things it brought extreme cold spells to usually mild climatic zones. Thus the lagoon in Venice froze over, for example in the winter of 1708-09. It was probably this particular event that Vivaldi referenced in his concerto known as "Winter".



G.A. Brescianello (ca. 1690-1758): Violin Concerto in C major: This1738 collection of six concerts and six symphonies was published in Amsterdam. These works found their way to the Dresden Court in the same year, just like the Violin Concerto in C major, which is recorded here for the very first time. What stands out most of all is the close interlinking of the solo violin with the tutti, which is especially apparent with a solo line-up for the orchestral parts, as in the present recording. Brescianello causes the solo violin and the first tutti violin to circle each other and to develop joint phrases like a playful and sometimes flirtatious conversation.



Vivaldi: "ll grosso mogul" Violinkonzert in D-Dur RV208: We have to imagine Venice as a centre of early modern globalization: Just like a lens, this city concentrated the different aspects of the world, be they cultural, economic, ethnic or religious. And Venice is swaying. In dealing with strangers the Zeitgeist swings between fear and fascination. In the end it is this horizon that provides the setting for the Violin Concerto in D major "II grosso mogul". In Vivaldi's version the "grosso mogul" is less a description of a specific historical sovereign and more a cipher for the border-crossing, surprising and foreign elements in the music. It is a violin concerto that shattered the limits of the contemporary with its structure-dissolving form, its burning emotions - especially in the first movement, its exotic enrichment of melodies and harmonics, the unusually long phrases, the vertiginous technical requirements, and unaccompanied passages overflowing with almost provocative egotism in the solo part.



On this SUPER-AUDIO-CD you will hear the Violin Concerto in C Major by G.A.Brescianello, which is recorded here for the very first time and a venturesome, sometimes sharp-edged, but in any case expressive new recording of the "Quattro Stagioni" by La Folia Barockorchester.


A.L. VIVALDI
Il Cimento dell'Armonia e dell'Inventione Op. 8
Le quaittro staioni - Die vier Jahreszeiten - The Four Seasons
La Primavera - Der Früh́ing - The Spring RV269
01. Allegro 3'28"
02. Largo e pianissimo 2'35"
03. Allegro 3'49"
L'Estate - Der Sommer - The Summer RV 315
04. Allegro ma non molto 5'21"
05. Adagio 2'05"
06. Presto 2'42"
L'Autunno - Der Herbst - The Autumn RV 293
07. Allegro 4'47"
08. Adagio molto 2'25"
09. Allegro 3'20"
L'Inverno - Der Winter - The Winter RV 297
10. Allegro non molto 3'15"
11. Largo 1'52"
12. Allegro 3'05"



G.A. BRESCIANELLO
Concerto in Do maggiore - Violinkonzert C-Dur - Violin Concerto in C Major
13. Allegro 3'24"
14. Largo 3'04"
15. Allegro assai 3'29"



A.L.VIVALDI
Concerto in Re maggiore - Violinkonzert D-Dur - Violin Concerto in D Major
II grosso mogul, RV 208
16. Allegro 5'30"
17. Grave 2'4l"
18. Allegro 4'48"



Total duration 62'02"