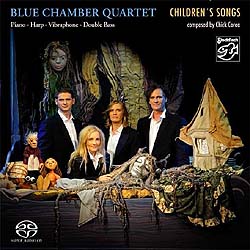 Blue Chamber Quartet

Children's Songs
composed by Chick Corea
SFR 357.4067.2



Multichannel Hybrid SACD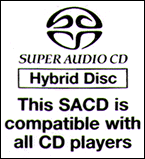 They should be simple and beautiful - that's what Chick Corea wrote about his 20 Children's Songs; the reason being that just this very simplicity and beauty of children's minds was what he wanted to express in his musical miniatures.



It was in the early seventies when jazz piano virtuoso and composer Corea started to work on those precious pieces and it took as long as 1984 for the Children's Songs to be published. Later Chick Corea commented on his work that each melody was singular and it was for everybody to receive these beautiful little works of art, try them and appreciate them.



It was with joy that we did like Chick Corea told us. We are fascinated by these poetic musical mircrocosms Chick Corea has created. It was only two years we needed to make our vision reality and record all of the Children's Songs and have Thomas Schindl transform the arrangements in our artistic concept.



This recording was accompanied by the thought of adding words to the music in order to let the children - whose imaginary voices are to be heard here - are also able to tell their stories.



Journalist Cathrin Kahlweit therefore has created 20 short texts for the 20 songs. 20 times the clock moves forward, 20 times the view goes to another country and 20 times the view focusses for one moment on a child with all its happiness, fear, hopes and worries.


BLUE CHAMBER QUARTET:
Julia Bartha piano
Angelika Siman concert harp
Thomas Schindl vibraphone
Holger Michalski double bass



guest musician:
Sven von Samson percussion
01. No. 1 3:28
02. No. 2 1:32
03. No. 3 1:46
04. No. 4 3:13
05. No. 5 3:33
06. No. 6 2:08
07. No. 7 1:58
08. No. 8 1:45
09. No. 9 1:55
10. No. 10 1:55
11. No. 11 1:28
12. No. 12 2:19
13. No. 13 1:35
14. No. 14 2:27
15. No. 15 1:45
16. No. 16 1:38
17. No. 17 1:30
18. No. 18 1:46
19. No. 19 2:47
20. No. 20 2:50



Total Time 43:26