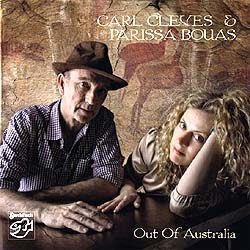 OUT OF AUSTRALIA

CARL CLEVES & PARRISA BOUAS
SFR 357.4060.2



Multichannel Hybrid SACD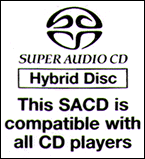 Carl Cleves and Parissa Bouas come from Australia. Their new album on Stockfisch is called "Out Of Australia"; while these three words certainly bear no small resemblance to the famous "Out of Africa", you don't have to be exactly a linguist to deduce that "Out of" is the trademark of an intensely emotional liaison with a country. The truth of this becomes more evident as each track of this CD unfolds.



Listener, when thou comest to Folk music, pray say: thou hast heard us singing as our native country bade us to sing.



Carl Cleves, originally from Belgium, has accumulated a bottomless bag of stories, rhythms, languages and guitar styles during his nomadic life, which has led him to performin almost every continent, resulting in highly original songs. In Brazil where he was a band leader for seven years, he released two acclaimed albums. An excellent guitarist, singer and storyteller, Carl's adventures have included stints as an antelope trapper in Uganda, relief worker in cyclone struck India, radio broadcaster and ethnomusicologist in Africa and fisherman in the South Pacific.



Parissa Bouas, is an extraordinary singer and songwriter who finds an emotional context for every genre. In Brazil they named her 'Patativa' after a bird renowned for its singing. Daughter of a Greek sailor, she inherited his love of Latin music and honed her formidable percussion skills whilst touring throughout Latin America with an Andean Folkloric group. Parissa has written some classic, catchy songs that people sing around the country, such as "Mother's Song" which can be heard on this SACD "Out Of Australia".


Parissa Bouas: vocal, guitar, shruti box, percussion, cachichi
Carl Cleves: vocal, guitar
Guests
Lea Morris: backing vocals
Peter Funk: dobro
Dominik Jung: guitar
Lucile Chaubard: violoncello
Christian Struck: cor anglais
Beo Brockhausen: tambura, jew's harp, swarmandal, mbira, hulusi
Lars Hansen: bass
01. Into The Light 4:01
02. Eclipse 0f The Sun 2:24
03. Don't Flowers Grow 3:30
04. The Bethlehem Bell Ringer 5:20
05. Way Down In The Mines 3:57
06. House Of Sorrow 4:50
07. Mother's Song 3:36
08. The Coniston Massacre 4:58
09. Graceful 4:29
10. Zeco 4:56
11. Sharpening A Knife 3:48
12. Carmen 4:39



Total Time 40:50