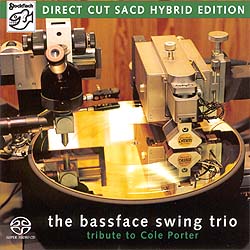 The Bassface Swing Trio
Tribute to Cole Porter
with
Barbara Bürkle, vocals
SFR 357.4056.2



Hybrid Stereo SACD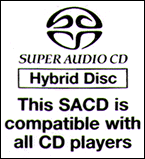 A great small jazz band, a legendary American composer and marvellous sound - it was a year ago that this mixture created one of the most remarkable sound recordings, the Direct-to-disc-Cut of the Bassface Swing Trio and their tribute to Gershwin. Could things become any better than this? Hard to imagine, but true. Proof enough of this: The Bassface Swing Trio again, this time featuring singer Barbara Bürkle, a fine selection of jazz tunes presented as a Tribute to Cole Porter.



This is nothing less than musical satisfaction in the extreme: the bass-face swing trio consisting of three extraordinary jazz musicians - Thilo Wagner (piano), Jean-Philippe Wadle (upright bass) and Florian Hermann (drums) breathe new life into traditional swing music. They uncover the nature of Swing as humorous, honest and down-to-earth dance music from the Roaring Twenties. It has lost nothing of its old charms.



The sound is remarkably open and transparent; Thilo Wagner's piano lines come fresh and lively as a mountain brook. Dynamic performance and abundant humour is what Bassface Trio is all about. While many a jazz singer is still trying, Bassface Trio's Barbara Bürkle is just there - right in between your speakers, three-dimensional, strong and sensitive. This young woman's huge talent is that kind of mathematics which turns quartets into trios!



The Stockfisch sound engineers mixed the sound of seven microphones in an analog mixer to a stereo sum using exclusively the analog gear of the Stockfisch studios: e.g. the sonosax mixing desk, the DRAWMER S3, the Avalon-EQs and the Elysia alpha compressor. The musicians played two sets of four pieces - live, there were no edits or digital tricks involved. The mix was then passed through the highest grade DSD 1-bit converter (DIRECT STREAM DIGITAL/2.8224 MHz). This DSD format remained as a pure 2-channel signal on our SACD workstation, as technically it cannot be manipulated, from which the DMM cutting and later the Direct-Cut-SACD Master was produced.



This amazing recordings has been released in three formats:
For all collectors of vinyl DSD 2.8224 MHz-TO-DISC Vinyl 180g LP (SFR 357.8056.1)
for the friends of swing music without turntable as SACD Hybrid: DSD-Stereo/CD-Audio (SFR 357.4056.2)
and for collectors of audiophile specials as DSD 2.8224 MHz-TO-DISC Vinyl 180g LP + SACD Hybrid-Bundle (SFR 357.9056.1) - limited to 500 pcs., numbered and signed by Gunter Pauler.


1 Dream Dancing * 5:41
2 Easy To Love * 4:07
3 Night And Day * 5:36
4 Love For Sale 4:58
5 It´s De-Lovely * 4:00
6 You´d Be So Nice To Come Home To * 4:11
7 Ev´ry Time We Say Godbye * 5:48
8 I Love Paris 4:41



* features Barbara Bürkle vocal