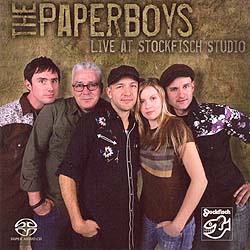 THE PAPERBOYS
LIVE AT STOCKFISCH STUDIOS
SFR 357.4054.2



Hybrid Stereo SACD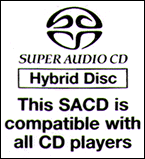 On the endless highway we are bound for Northeim. Well-known signs of sonic welfare guide us to the Stockfisch Studios. And whoever drops by today is in for a treat: A band begins to play, the sound of tin whistle, violin and bodhran, this is Celtic folk music, blue-grass, Mexican music and country music, at times with a hint of music from eastern Europe and Africa. The Paperboys perform live in the studio - and it is plain to hear they are having a lot of fun doing this.



The Paperboys are a folk music band from Vancouver, Canada. They have been playing together since 1991 and some of their recordings were honored with folk music awards. Regularly featured at folk festivals in North America and Europe, the Paperboys have toured on both conti-nents creating an ever growing community of followers.



Some listeners will be surprised by this new Stockfisch recording. But, those taking their time for a thorough listening will find out what makes the Paper-boys true Stockfisch artists. Their adventurous mix of musical styles ulti-mately gives expression to their love of music and the joy it can create. One moment the vivid tunes make you want to sing along or dance; the next moment tunes almost mystical in all their seeming simplicity ("For Roberta") are reminiscent of The Band.



Those who believe they know this kind of music will here be given a fresh perspective. Those who consider themselves immune to this kind of music will change their mind. Or as the Paperboys say: "I can't build a fence but I could get used to this country life."



Stockfisch-Records has also released this Live-in-Studio-Session as an audiophile 180g-Vinyl LP cut with their in-house Direct-Metal-Mastering: (SFR 357.8054.1)


Tom Landa vocals, acoustic & electric guitar, jarana
Geoffrey Kelly flutes, whistles, vocals
Kendel Carson fiddle, vocals
Ashley MacLeod fiddle, piano, vocals
Brad Gillard bass, banjo, vocals
Matt Brain drums, percussion
01. Writing 4:57 [Tom Landa]
02. Mary 4:00 [Tom Landa / Steve Mitchell]
03. El Baile Del Puma 3:25 [Geoffrey Kelly / Tom Landa]
04. Comfort and Kind 3:20 [Tom Landa / Geoffrey Kelly]
05. For Roberta 3:26 [Geoffrey Kelly]
06. Worms/Door of Steel 3:18 [Geoffrey Kelly]
07. Stars 5:00 [Tom Landa / Steve Mitchell]
08. Dilapidated Beauty 3:20 [Tom Landa / Steve Mitchell]
09. Country Life 4:49 [Tom Landa]
10. La Primavera 4:08 [Tom Landa]
11. Good Thang 5:07 [Tom Landa]



Total Time 44:52