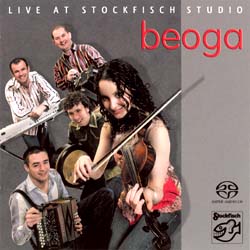 beoga

LIVE AT STOCKFISCH RECORDS
SFR 357.4053.2



Hybrid Stereo / Multichannel SACD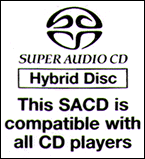 Again an exciting LIVE AT STOCKFISCH STUDIO release - this time one of the best Irish folk bands visited Northeim for a recording session: Beoga. "Beoga" (Irish word for 'lively') are based in County Antrim, in the north of Ireland. The bedrock of their sound lies firmly within the Irish tradition. However, they are not afraid to incorporate other genres' nuances into their music. From bluesy riffs to Astor Piazzola style jazz, to a raunchy New Orleans jamboree vibe, their music always returns to a wonderfully bouncy traditional sound. The result is traditional, with a huge sense of fun and adventure and it all works - wonderfully well. The Irish Times states, "Individually talented and collectively inspired, (Beoga) speak a language called music with a fluency beloved of the best multi-linguists."



Beoga is world music, made in Ireland and their musical activities has seen the supergroup continue to blaze a pioneering trail, rewarding fans with their fresh creative energy and seducing a diverse array of music lovers. The string of accolades from the music industry say it best, "Beoga are at the forefront of the Irish new wave," Irish Music Magazine concludes. "Simply thrilling, an auditory high-wire act without a net," writes Irish Philadelphia. "Riveting," says the Wall Street Journal.



The band was drawn together in 2002 after 'jamming' in a ferocious session at the All-Ireland Fleadh. From the beginning Beoga was endowed with massive musical talent, featuring the twin dueling accordians of Damian McKee and multi-instrumentalist Seán Óg Graham, pianist Liam Bradley and four times All-Ireland bodhran champion Eamon Murray. In 2005, the lineup was complete, with the addition of Niamh Dunne, one of Ireland's premier young talents, on vocals and flddle. In short, Beoga have become one of the most popular and influential ensembles in modern Irish music.


LIVE AT STOCKFISCH STUDIO


01. Trolleyed 3:21
02. Factory Girl 3:18
03. Jazzy Wilbur 3:42
04. Mickey The Pipes 4:04
05. Please Don't Talk About Me When I'm Gone 2:32
06. Boxy Set 2:58
07. Both Sides The Tweed 4:21
08. A Lovely Madness 4:28
09. A Delicate Thing 5:26
10. Soggy's 4:35
11. The Prelude Polkas 4:31
12. The Solid Man 3:35
13. Dirty Work 3:03



total time: 49:56