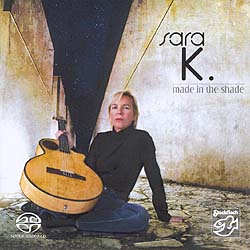 sara k



made in the shade
SFR 357.4052.2



Multichannel Hybrid SACD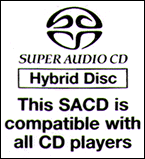 This last album is surely one of her very best, maybe it is THE best. It is certainly no less than sensational. Like good wine, this one has it all - that inner glow, that shining light that is the true sign of real art. Guitars, exotic instruments including the harp form an ideal backdrop for the singer - with Sara K. sounding articulate to the highest degree, her performance mature, completely lacking any harshness whatsoever. This is passion in control. Gentlemen - get hit by that power of a heavyweight champion coming in a velvety disguise.



"A note to my friends and fans: I'm putting the pen to paper one last time to say thank you for all your support over these many years. After many years on the road and writing music, I've decided to stop touring and recording. It's hard to explain why but I hope you will understand. I had a good run but I think it's over. It's just too much for too little these days. 'Made in the Shade' explains it as best as I know how. Please except my love and gratitude for all the years you have given me yours. Many, many thanks to Gunter Pauler at Stockfisch Records."



"All my best wishes for you and yours."


Sara

Sara K. vocals & manzanita 4 string-guitar
Ian Melrose acoustic & electric guitar, low whistle
Johanna Single concert harp
Lutz Möller piano
Christian Willisohn piano
Martin Großkurth hammond organ
Christian Struck english horn
Hans-Jörg Maucksch fretless bass
Christian Archontidis cymbals
Beo Brockhausen saxophones, clarinet, bass-clarinet, udu, bells, chimes,
güiro, hulusi, duduk, bass-harp, sitar
01. Whatīs A Little More Rain 4:25
02. After Thereīs A Blizzard 4:27
03. Aura Of The Blade 3:36
04. Gypsy Eyes 3:44
05. Your Name 3:14
06. Watching You Fall Into Sleep 3:29
07. Manchild 3:55
08. Made In The Shade 3:56
09. Sizzlin' 3:21
10. Donīt I Know You From Somewhere? 5:21
11. When I Didnīt Care 4:15
12. There It Is 4:36



Total Time 48:24