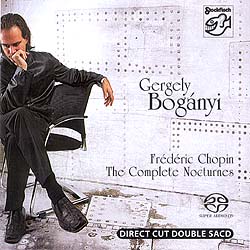 Frédéric Chopin
The Complete Nocturns



Gergely Bogányi
SFR 357.4051.2



Double Hybrid Stereo SACD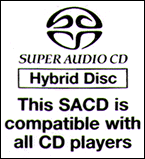 "Late at night, by starlight, surrounded by the silence of a great city settling into tranquillity, one should listen to Fréderic Chopin's Nocturnes. This great master of piano music, one of Europe's grandest lyricists, whose art is outstanding in freshness and clarity, invites his admirers to join him at his piano: close enough, on a chair, a couch or on the carpet. Chopin brings tears to the eyes of his audience, who listen with heads bowed, charmed and yet with an uneasy compassion in the face of such an overwhelming view of the completeness of life - expressed with such beautiful music."



Gergely Bogányi is regarded as one of the most exceptional pianists of our time. His brilliant technique and deeply expressed artistic interpretation make him an outstanding performer. He was so affected by the recent piano-recordings from the Stockfisch studios, that he decided spontaneously, to record all of the 21 Nocturnes by Frédéric Chopin within a few hours - amazing! This recording is released as Double-SACD-Hybrid. The Direct-Cut-DSD layers feature the pure sound of the FAZIOLI 308 grand piano.



He was born in 1974 in Vác, Hungary, and began playing piano at the age of four. He continued his studies at the Liszt Academy of Budapest, the Sibelius Academy in Helsinki, and at the University of Indiana in Bloomington.



Gergely has been successful in several national and international competitions. In 1996 he won one of the most distinguished competitions in the world, the International Franz Liszt Competition in Budapest. He has been a constant guest in recitals in the best halls in Europe and worldwide, and has been invited to perform as a soloist by the leading orchestras, for example, the London Philharmonic Orchestra in 2004.



Maestro Bogányi regularly makes radio, television, and CD recordings, and in addition to the complete Chopin œuvre and a wide repertoire of solo pieces, there are more than 30 piano concertos in his repertoire. His series of Chopin's Complete Piano Works performed in Hungary and Finland in 2001 and 2002, received the Hungarian Gramofon Prize in the category of Best Concerts Event and Performing Artist in Hungary. Gergely Bogányi has been appointed a Citizen of Honour in his native town Vác at the exceptionally young age of 22. In 2000 he was awarded the Liszt Prize by the Ministry of Cultural Heritage, in 2002 the Cross of Merit of the White Rose of Finland by the President of the Finnish Republic, and in 2004 he received the highest artistic award of Hungary, the Kossuth Prize.


Frédéric Chopin (1810-1849) - The Complete Nocturnes

Gergely Bogányi, piano (FAZIOLI F308)

SACD 1

Trois Nocturnes Opus 9 (1830/31)
1. No.1 Bb minor 6:10
2. No.2 Eb major 4:40
3. No.3 B major 6:57

Trois Nocturnes Opus 15 (1830/31)
4. No.1 F major 4:43
5. No.2 F# major 3:40
6. No.3 G minor 4:23

Deux Nocturnes Opus 27 (1835)
7. No.1 C# minor 5:25
8. No.2 Db major 5:45

Deux Nocturnes Opus 32 (1836/37)
9. No.1 B major 4:43
10. No.2 Ab major 5:29

(total time 52:46)
SACD 2

Deux Nocturnes Opus 37 (1838)
1. No.1 G minor 6:19
2. No.2 G major 6:32

Deux Nocturnes Opus 48 (1841)
3. No.1 C minor 5:38
4. No.2 F# minor 6:20

Deux Nocturnes Opus 55 (1843)
5. No.1 F minor 4:09
6. No.2 Eb major 4:53

Deux Nocturnes Opus 62 (1845/46)
7. No.1 B major 6:51
8. No.2 E major 5:05

Nocturne Opus posth. 72 (1827)
9. No.1 E minor 4:25

Nocturne Opus posth. (1837)
10. KK IVb No.8 C minor 2:58

[Nocturne] Opus posth. (1830)
11. KK IVa No.l6 C# minor 5:00

(total time 59:17)