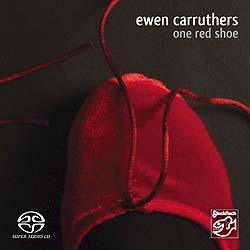 Ewen Carruthers



One Red Shoe
SFR 357.4048.2



Stereo Hybrid SACD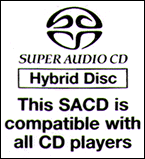 A new album by Ewen Carruthers is a thing worth waiting for! Now it's here - they call it One Red Shoe.



Melodies dance like dappled sunlight on ground covered with golden autumn leaves. October wine - that's how lyrics grow. Down-to-earth, yet reflective; almost old-fashioned, they are bound to warm the heart - taking the direct approach to the soul of the matter. And more of this slide guitar please!



A kaleidoscope of human experience; stories told by a man who uses them to come to terms with the personal and the universal in that many-splendored thing called life. Carruthers is one in a long row of artists dealing with that flaw inherent in creation that's good for pain and creativity.



Things like nearness and understanding are multidimensional, the earth may shake beneath one's feet ("California living's great, until you start to shake".)



Or that the image of a world so beautiful is marred by things like hurricane Katrina - portrayed as a raging woman flinging "Mississippi Mud" without ever being able to beat life's energy out of the artists in New Orleans who create sculptures from flotsam and jetsam. Ewen Carruthers' is an instance of this: a single red shoe on Ground Zero.



It will surely take one hell of a time - or as Carruthers put it in his last album's title "Until Time Turns Around" - when things will once more be the unflawed way they were meant to be ("Shoes were meant to be a pair").



Until that time, we will make do with art - Carruthers' art does very well.


Ewen Carruthers vocals & guitar
Ian Melrose guitar, whistle, shakuhachi, electric guitar
Martin Huch dobro, sitar guitar
Lutz Möller piano
Johanna Single concert harp
Annika Lückebergfeld mandolin, mandola
Siard de Jong violin, bouzouki
Beo Brockhausen hulusi (Chinese free reed wind instrument)
Johanna Gödecke concert flute
Udo Weihrauch banjo
Lea Morris backing vocals
Margaret Fiellin backing vocals
Thomas Biller upright bass
Grischka Zepf electric bass
Hans-Jörg Maucksch fretless bass
01. Mr. Anderson 4:30
02. Hey Katrina 3:36
03. Lonely Little White Cloud 4:14
04. Long Distance 3:41
05. Chinese Girl 3:51
06. That Train 4:41
07. One Red Shoe 3:02
08. Information Getting Lost 3:27
09. A Springtime Story 4:37
10. The Railroad And The Plow 3:58
11. Lovebirds 3:29
12. Just Passing Through 3:22



Total Time 46:39