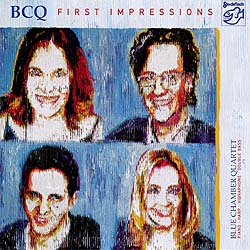 Blue Chamber Quartet
BCQ First Impressions
SFR 357.4046.2



Hybrid Stereo / Multichannel SACD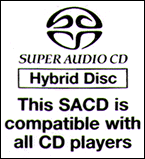 In the beginning, there was friendship …. Four musicians with successful solo and ensemble careers in the field of classical music decide in the fall of 2005 to present a concert far off the beaten path of a typical "Mainstream" concert program.



The concert is intended to reflect the tastes of the individual members of the ensemble, and showcase the joy they feel in playing their instruments. Piano, harp, double bass and vibraphone combine classical roots with elements of jazz into an excitingly different new sound.



The "Blue Chamber Quartet" blue notes and chamber music of the 20th century melt into a highly virtuoso and varied mixture. The traditional mixes with the unknown, familiar sounds blend with the exotic.



The Blue Chamber Quartet takes the listener on a journey of discovery through a surprising world of seemingly familiar works. …

Julia Bartha: PIANO
Angelika Siman: HARP

Thomas Schindl: VIBRAPHONE
Holger Michalski: DOUBLE BASS
01. TOCCATA Sergej Prokofjew 04min:55sec
02. CHILDREN'S SONG 19 Chick Corea 02min:24sec
03. CHILDREN'S SONG 12 Chick Corea 02min:09sec
04. CHILDREN'S SONG 16 Chick Corea 01min:30sec
05. CHILDREN'S SONG 17 Chick Corea 01 min:19sec
06. CHILDREN'S SONG 18 Chick Corea 01min:24sec
07. TANTI ANNI PR1MA Astor Piazzolla 04min:29sec
08. MUSIC 4 - 4 Jens Schliecker/Nils Rohwer 06min:15sec
09. GOOD BYE MY LOVE Monika Stadler 04min:07sec
10. KICHO Astor Piazzolla 06min:34sec
11. JAZZSUITE - LATIN Richard Michael 02min:07sec
12. JAZZSUITE - BLUES Richard Michael 02min:29sec
13. JAZZSUITE - BOOGIE Richard Michael 03min:53sec
14. HINTER DEM FENSTER Jens Schliecker/Nils Rohwer 05min:49sec
15. LA FIESTA Chick Corea 05min:11 sec
total playing time 54min:37sec