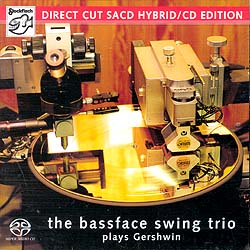 the bassface swing trio
plays Gershwin
SFR 357.4045.2



Direct Cut Hybrid Stereo / Multichannel SACD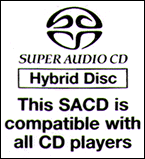 Originally released as a Direct-to-disc LP / Hybrid SACD package this amazing recording is now available as a stand alone Stereo Hybrid SACD


Direct-to-disc has been, and still is, the biggest challenge in audiophile music production. Unforgettable are the works of Sheffield Lab, Jeton and courageous cutting engineers like Stan Ricker, who out-maxed the technical possibilities of that time by provocative back-cutting.



Stockfisch-Records perfectly meets the conditions for such a fascinating vinyl adventure: A recording studio with an outstanding FAZIOLI grand piano (model F 228) - the soundboards of these pianos are built from precious Red Spruce from Val di Fiemme in the Western Italian Alps, the same wood Stradivarius had used in his instruments -, an in-house vinyl cutting lathe and contacts to numerous ingenious musicians built up over many years.



There are several ways to approach such a project. We decided to go strictly analog. To maintain this cohesion, we kept all recording paths, the mix and the signal path to the cutting head of our VMS-80 cutting lathe analog!



What makes the result particularly interesting is the splitting of the analog stereo sum into three destinations. In addition to the direct analog signal for DMM cutting, we converted the mix into highest-grade DSD format (DIRECT STREAM DIGITAL / 2,8224 MHz) - using a 1-bit converter - and into conventional digital audio format, 16-bit / 44.1 kHz PCM, as well. This direct-to-disc vinyl record comes with an SACD (DSD 2 channel-layer) which also contains a CD-hybrid-layer. This seems to be the first opportunity ever available to compare three formats originating from the same analog source and transferred unaltered into two digital formats.



The Music
On January 13, 2007 the bassface swing trio landed in Stockfisch Studios. These amazingly talented musicians with nerves of steel are: Thilo Wagner - piano, Jean-Philippe Wadle - upright bass, Florian Hermann - drums. They played Gershwin, celebrating and improvising this music breathtakingly - and swinging! the bassface swing trio performed their program twice for the A and B sides and chose cut A1 and B2 for this vinyl pressing.



1. Oh, Lady Be Good 8:50
2. Embraceable You 4:48
3. Strike Up The Band 3:45
4. Our Love Is Here To Stay 7:15
5. The Man I Love 7:05
6. I Got Rhythm 5:18