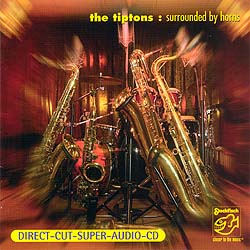 the tiptons
surrounded by horns
SFR 357.4034.2



Direct Cut Hybrid Stereo / Multichannel SACD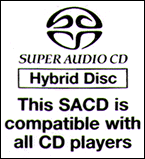 So what's the cause of this driving beat? What trail is being blazed on this LIVE SACD which virtually obliges one to turn the volume up LOUD at the risk of attracting complaints from the neighbours?



THE TIPTONS come from Seattle, USA. They are Amy Denio, Jessica Lurie, Tobi Stone, Sue Orfield and Elizabeth Pupo-Walker. Elements of swing, klezmer, big band, pop and Eastern European nuances interwoven with occasional strains of gypsy music are blended together to craft that ultimate, inimitable TIPTONS' sound. Four Saxophones plus percussion.



On this Hybrid Super Audio CD (SACD) the sound is recorded in DSD (Direct Stream Digital) format. The sampling frequency (2.8224 MHz) is 64 times that of a traditional CD. Furthermore, DSD uses 1-bit quantization. With the aid of this technology an even broader frequency range (up to 100 kHz) and even greater dynamics (120 dB) can be achieved over the entire useful audio range.



When this recording was made it was practically impossible to maintain the DSD format throughout the entire edit/mix/mastering sequence during production. This was because no system was yet available which permitted the necessary processing in the 1-bit format after a DSD recording. This meant that the unavoidable editing procedures such as gain leveling, mixing, cross-fades or even additional EQing or dynamics processing could only be achieved by downconverting to PCM format (i.e. the Pulse Code Modulation format of the traditional CD).



We first used our SADiE DSD8 system for the recording, processing and mastering of this DIRECT-CUT-SUPER-AUDIO-CD - which enabled us to forget about the limitations that had beset us: a brand-new system from the tradition-steeped British manufacturer of mastering equipment that allows simultaneous recording of 8 channels. The analogue signal from the microphone is converted at the input to DSD and is also maintained in DSD-Wide format with 2,8224 MHz throughout the processing stages already mentioned. The end result is then obtained in the SADiE DSD8 - the "cutting master" (AIT tape) - which is then transferred directly to an SACD glass master in the pressing plant.



This DIRECT-CUT-SUPER-AUDIO-CD will enable you to hear a 5.1 DSD surround mix as well as a DSD stereo mix on the SACD layer, and the 16-bit PCM stereo program on the hybrid layer which guarantees downward compatibility. So this gives you the first ever opportunity of comparing a real(!) DSD recording with the conventional CD format.



The microphones used were: six UM-75 valve microphones by Neumann/Gefell and two Neumann TLM- 50s. In the sketch in the SACD booklet you can see the positioning of these during the live recording. A GRACE mic-pre delivered the necessary line level to the SADiE DSD8 converter. The recording was quite intentionally made without artificial reverb. The 5.1 mix traces the microphone positions in a distinct and direct manner. As a result, the multichannel version sounds breathtakingly live and three-dimensional - the listener is, so to speak, "surrounded by horns."



1. The Penguin 2:39
2. Calder's Circus 6:51
3. Gypsy Wedding 2:59
4. Sahel 7:21
5. Vorrei dire due parole 4:30
6. After Before 5:36
7. Dreamsville 7:49
8. 12 Days 6:05
9. Crni Vlak (Black Train) 5:28



Total Time: 49:20