MULTI- GRAMMY® NOMINATED ALBUM NOW AVAILABLE ON LP!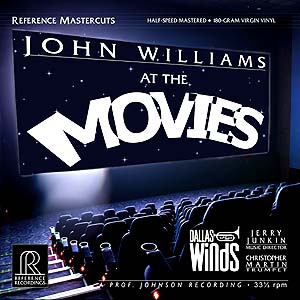 John Williams At The Movies



Dallas Winds
conducted by Jerry Junkin
Christopher Martin, trumpet



RM-2520
Double 33⅓ rpm 180gram LP



JOHN WILLIAMS is a game changer. Early in his career he crossed the lines between music that was "art" and music that was "commercial," and never looked back. He is one of the best known, most awarded and most successful composers in US history, and his name is inextricably connected to outstanding music for films. He has written scores for over 100 films, and his massive list of awards includes 51 Academy Award nominations and five wins, as well as 24 Grammy® awards. A less-known fact is his fondness for writing, arranging and conducting wind band music. This collection of his film music includes favorites from Star Wars, Superman, JFK, ET and many more, arranged for concert performance by top-level wind ensemble.



Brilliant performances by THE DALLAS WINDS were recorded in spectacular audiophile sound by Reference Recordings' own award- winning engineering team: Keith O. Johnson and Sean Royce Martin. The engineers and album received GRAMMY® nominations in 2018 for Best Engineered Album, Classical and Best Classical Compendium for the 61st GRAMMY® Awards. John Williams At The Movies features soloist Christopher Martin, principal trumpet of the New York Philharmonic. The recording was made in Dallas Texas, in the Morton H. Meyerson Concert Center, one of the world's greatest concert halls, and the site of an annual Dallas Winds concert featuring the film music of John Williams.


Side A
1. Olympic Fanfare and Theme (4:32)
2. Superman March (4:30)
3. The Cowboys Overture (9:49)



Side B
1. Adventures on Earth from E.T.: The Extra-Terrestrial (10:42)
2. With Malice Toward None from Lincoln (4:19)
3. March from 1941 (4:29)



Side C
1. Scherzo for X Wings from Star Wars: The Force Awakens (2:23)
2. The Jedi Steps and Finale from Star Wars: The Force Awakens (9:44)
3. Star Wars (Main Title) (5:47)



Side D
1. Imperial March from The Empire Strikes Back (3:21)
2. Excerpts from Close Encounters of the Third Kind (7:55)
3. Theme from J.F.K. (5:15)
4. The Star-Spangled Banner (2:57)
---